Features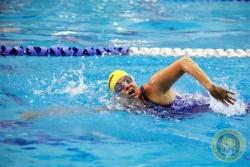 Kate Fisken: Swimming Through the Pain and Out the Other Side
In 2004, Kate Fisken sustained an injury during a twist move in yoga class that left her unable to get up off the mat. She says that a 1999 car accident probably created the weakness that exploded that day. In a piece she wrote about her experience for a competition to be part of a documentary on the 2009 National Senior Games, Fisken explains: "I went from neurosurgeon to neurosurgeon, seeking relief from what turned out to be a broken back. I [was diagnosed with] a Level II Spondylolisthesis; my L-4 vertebrae had broken away from the spine. This condition caused excruciating back and leg pain and affected my ability to move and walk. [Initially] all medical advice was to operate and fuse my spine with rods and screws.
Read more...
---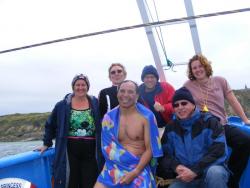 Many Are Cold, But Few Are Chosen
On a cloudy June 4, 1944 troops from Oregon joined with others from all over the United States and Britain to cross the frigid, stormy English Channel for the surprise D-Day invasion of France. Their bravery and sacrifices will long be remembered as a turning point in the war against the Axis Powers.
On a similar day, July 3, 2010, 66 years later, another group of Oregonians crossed that same body of water, this time battling the hostile sea itself rather than an armed enemy. And instead of facing the grim realities of warfare, this group of six intrepid swimmers was having fun. Fun?
Read more...
---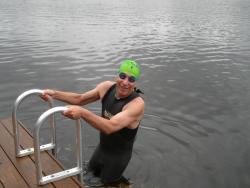 Why I Love Swimming
I was 60 years old, 5'-10", and pushing 200 pounds a year ago. My blood pressure was 140/90, and my physician said we'd watch it for six months and put me on medication if it stayed elevated. I had been an avid cyclist and runner, but had to give them up about 12 years ago because of arthritis that resulted in a total hip replacement five years previously. I tried swimming with the local Masters group but the coach focused on the triathletes who had bad strokes and high fitness. I had a good stroke and low fitness, and I found all the drills to be boring and I wanted to spend the time I had allocated to fitness actually swimming. I had been swimming twice a week with my wife, 2,000 yards per workout, and gradually getting slower as I gained weight and aged. My body mass index put me squarely in the "overweight" category. I was depressed about aging and my growing gut. My future looked like a steady decline into heart disease and obesity.
Read more...
---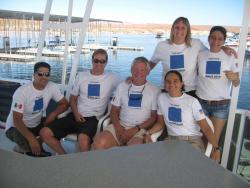 Making Time for Breaking Records and Helping Others
How do you eat an elephant? One bite at a time. And you swim 108 nautical miles – approximately the distance from Wilmington, Delaware to New York City - the same way.
No elephant is too big for the Night Train Swimmers who "are always looking for a good cause to support and interesting swims to complete," says leader Vito Bialla. Most recently, the interesting swim was the record breaking Mexican American Unity Swim in Lake Powell, Ariz. on September 24-26, 2010, and the good cause was the Wounded Warrior Project.
Read more...
---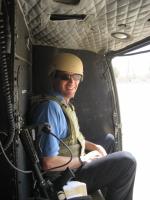 A Swimming Oasis in the Iraqi Desert
The crush of daily life and its attendant responsibilities gets in the way of ideal training for almost all Masters swimmers, but for some folks, life erects exceptionally large hurdles. But often those people, and Randy Rogers is one of them, just find a way to make it work, wherever they are. Because of that drive, and a little luck, even being assigned to Iraq didn't make Rogers miss a stroke in the pool.
Read more...
---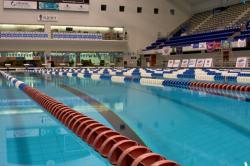 Registration is Open!
USMS memberships follow the calendar year, and expire on December 31. However, if you renew or register between November 1 and December 31, your membership will be valid for the following year as well.

We are excited to share that this year, for the first time ever, our sponsors are offering exclusive incentives to members who renew or register before December 31, 2010. Members who renew before December 31, 2010 will receive an e-mail with personalized discount codes, totaling more than $30 in savings, from these sponsors:
Barracuda: 10% off your total purchase, blueseventy: $15 off purchase of $30 or more, FINIS: $10 off total purchase, Fitness Nutrition: 20% off total purchase, Hammer Nutrition: $5 off total purchase, SwimOutlet: 10% discount on Sporti and ClubSwim products, TriSwim: 30% off total purchase, TYR: 20% off total purchase

Join/Renew
---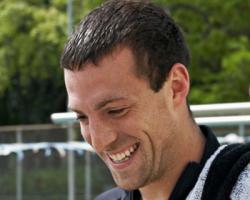 Fran Crippen
U.S. Masters Swimming and all of its members, board of directors and staff wish to express our heartfelt sadness and sense of loss over the death of USA Swimming National Team member Fran Crippen during the FINA Open Water 10K World Cup event in the United Arab Emirates. Our condolences go to his family and teammates.
Old or young, fast or slow, swimmers are united by love of the sport and respect for those who put on goggles and show up at the pool or lake or ocean or river-- for fun or competition. Swimmers of Crippen's ability and character are few and far between and we all will feel his loss for a long time to come.
U.S. Masters Swimming remains committed to working with LMSCs and event organizers to run the safest events possible.
To read what his friends and teammates are saying, check out SwimNetwork's "20 Memories Tuesday" in honor of Crippen.
The Crippen family has asked that, in lieu of flowers, donations be made to:
The Fran Crippen Elevation Foundation
301 E. 8th Avenue
Conshohocken, PA 19428
Visit francrippen.com to read a personal message from the Crippen family.
---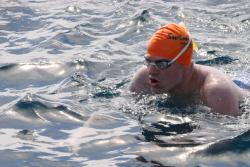 Breaststroking Across the Catalina Channel
Jason Lassen of Oregon Masters didn't want to run anymore after completing Ironman 70.3 Boise in June 2009. So Lassen, 38, approached fellow Masters swimmer Michelle Macy at a meet and said he wanted to try open water swimming and do something "few people had done." "So," Macy remembers, "I said why don't you swim Catalina breaststroke?"
Read more...
---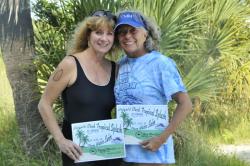 From Open Heart Surgery to Open Water Swimming
On October 2, 2009, Lisa Smaga, my best friend and lane mate for 10 years, was wheeled into the operating room for open-heart surgery. She was only 49, and we were both quite scared. Fast forward to October 2, 2010 and if you were standing on a beach in Sarasota, Fla., you would have seen the two of us swimming the 1K race in the Tropical Splash and Dixie Zone Open Water Championships to celebrate the one-year anniversary of her operation. It was her first competition since the surgery.
Read more...
---
Golden Gate Group IM
In the winter of 2006, a fellow English Channel swimmer, Becky Fenson, had the crazy idea of doing an individual medley across the Golden Gate Bridge – four miles total, one mile of each stroke. As I was eagerly seeking a break from freestyle, I began doing long distances of open water butterfly at the Dolphin Club in San Francisco. Unfortunately, my ambition was way stronger than my shoulders. As it was winter, I figured the sharp pain occurring in my left arm was due to the 50-degree February waters of our swimming hole.
Read more...
---