Features
Day Three in Mesa
Today started out with the Women's 500 freestyle, and we spoke with sisters Sara and Mary Holman, who swam side by side in the final heat. In the 100 IM, arguably the most fun you can have in four laps, we saw friendly rivalries that date back many years, including Rich Burns, Rich Abrahams and Robert Strand; as well as Jack Groselle and Michael Mann. Susan von Der Lippe and Fall Willeboordse also contested the 100 IM. As always, we find inspirational stories of swimmers overcoming huge obstacles; Stephanie Yoshimura, Gordon Taylor and Susan Helmrich are all grateful to be here swimming and having fun. And finally, Olympian Misty Hyman takes a tour of Tent City and finds out what the swimmers are doing between events.
---
Day Two at Spring Nationals--Fun, Family and Friends
Day Two here in Mesa brings more sunshine and speed as over 15 national records are broken in this post tech suit national championship. Olympians Josh Davis, Ed Moses and Rowdy Gaines wowed fellow swimmers and cheering fans with fantastic swims. Former USA National team members and USMS national record holders Jeff Commings and Steve West, who have been swimming against each other since high school, met for a showdown in the 100 breaststroke. We also talked with Wyatt Earp, a relative of the famous OK Corral gunfighter, and Garrett McCaffrey from Swimming World TV. Ann Case and Siphiwe Baleka are both traveling with large entourages who are showing their spirit on the pool deck. And Charlotte Sanddal, who didn't start swimming Masters until she was 72, shares her thoughts about competing as an 88-year-old.
Spring Nationals Video Gallery
---
Day One at Spring Nationals in Mesa
Rob Butcher and Misty Hyman, gold medalist in the 200 butterfly in the 2000 Olympic games, find some great stories on deck here in Mesa. We talk with Laura Lastfogel, a Masters swimmer looking back at her college eligibility. Adrian Legaspi, who swims with FLAQ, also happens to be a surgical oncologist specializing in skin cancer. Dr. Legaspi will be sharing information with his fellow Masters swimmers here in the intense Arizona sun. We also catch up with Patty Kast of Kast-A-Way Swimwear, the first USMS sponsor back in the early 80s. And we meet Joel Kriger, who lives in Brazil, but loves to join USMS and compete in every nationals he can squeeze into his busy travel schedule.
---
Welcome to Mesa, Arizona
Join USMS Executive Director Rob Butcher and Olympic Gold Medalist Misty Hyman for a quick tour of the Kino Aquatics Complex, home of the 2011 Spring National Championship. USMS's distance swimmers are starting to arrive today and are getting warmed up for the 1000 and 1650, which take place tomorrow.
---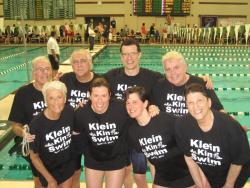 Eight Family Members Swim Four Relays at Colonies Zones
"Hey, we're all getting together for Passover, let's do a swim meet too!" This isn't exactly how Nanci Klein Sundel approached her family, but it is close enough. Ranging in age from 45-82, seven members of the Klein family (plus an in-law) decided to add a swim meet to the festivities. Coming from Boston and Florida and Virginia and Maryland, they converged on the Colonies Zones meet April 16-17 and "had a blast." Sundel and her brother are Masters swim meet veterans, but many competing had never swum in a meet before. They had so much fun planning it that Sundel's 10-year-old daughter asked if she could do it too.
Read more...
---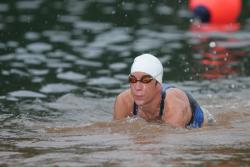 The Making of an Open Water Swimmer
Six years ago I was standing at the edge of the Chesapeake Bay just after dawn on a cloudy morning in June, so nervous I thought I would throw up or pass out or both. The only question was the order in which my body's betrayals would arrive. No, nervous isn't the right word; nerves are for exams or speeches or meeting the in-laws. I was terrified. The opposite shore was so far away I couldn't see it. The deep water was dark and threatening, covered in whitecaps, and undoubtedly filled with jellyfish and other creatures more at home there than me. But I fought the fear with everything in me. I had prepared for this day, I told myself; I was ready. So when the gun went off, I ran into the water along with the other 300 swimmers in my heat and began the 4.4-mile journey to the other side.
Read more...
---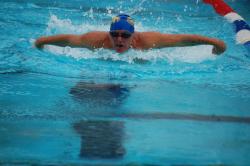 A Swimmer's High After a Frightening Low
Eat. Swim. Sleep. Repeat. You'll find this slogan on a sticker that Ray Venture has placed on his car. For him, it is more than a slogan though, it is his way of life. And he only started swimming four years ago at age 59, after serious heart surgery. Passionate and fun to talk to, Venture wants to inspire the world to take up Masters swimming.
In 2005, Ray Venture, 62 and a very proud member of Gold Coast Masters, had quintuple bypass surgery. In 2007, he learned to swim, and when I interviewed Venture he had just gotten back from YMCA Masters Nationals.
Read more...
---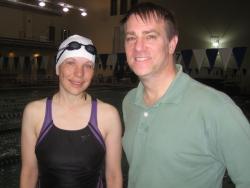 Getting There One Stroke at a Time
Learning to swim as an adult is hard. Really hard. Most people don't do it. But Sharon Bloch is doing it and hopes her tale will inspire others.
Bloch, 47 and a veteran of three running marathons, swims with the CSP Tideriders in St. Louis. Hap Gentry, 52, is their coach. Bloch originally approached him for private swim lessons after realizing that the only thing left to her in marathons was to try and get faster, and she didn't think she could. "Swimming just seemed like a good challenge. I would hear a lot of runners say they wanted to do a triathlon but couldn't swim. So I decided to try and do a triathlon." Not for a minute did she think she would ever join a Masters team. But one thing led to another, and she joined USMS and the CSP Tideriders in November 2010.
Read more...
---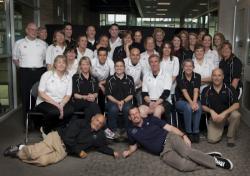 New USMS/ASCA Coach Certification Program a Huge Success
A coach is defined in The Oxford College Dictionary as "an athletic instructor or trainer." While technically accurate, that description does not come close to conveying what a good coach really does for a swimmer. In addition to instructing and training, a coach also motivates, corrects, inspires, and leads. He or she plans workouts, acts as traffic cop and cheerleader, assists in goal setting and organizes participation in meets. These extra duties are particularly important in Masters swimming. Coaching adults is simply different than coaching children and teenagers in ways that are both rewarding and challenging.
Read more...
---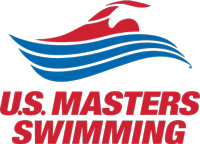 USMS 2011 Member Rewards Program Starts NOW!
In 2009, we registered 50,000 members for the first time. We are on pace to come close to 60,000 members in 2011. Maybe you are a first time USMS member this year, maybe you have been registering with us for the past 20 years. Either way, we want to show our appreciation for ALL our members. Beginning today, March 18, each Friday through July 29, we will randomly select names from our membership database. All USMS members registered at least 24 hours prior to each weekly selection are automatically enrolled for a chance to win. Roughly $10,000 worth of merchandise from our sponsors will be given away during the program. Items will include embroidered logo swim bags, nutrition products, apparel and more. Our first Member reward is actually a USMS Club: Team Pittsburgh, whose swimmers are now proud owners of a new Colorado Time Systems digital pace clock.
Our Member Rewards Page will keep you up to date. Maybe YOU will be next…
---