Features
Christi Garcia Started Swimming and Ended Up in Paris
Learning to swim gave Christi Garcia, 44 and a member of YMCA Indy SwimFit, the confidence to cross the Atlantic Ocean. Not by actually swimming, but rather with the strength of will that swimming gave her.
"I look at learning to swim and swimming as a metaphor for my move to Paris. In the summer of 2007, I could barely swim 25 meters, but with constant practice and coaching and encouragement, I have made great strides. When I get discouraged about my lack of progress in finding a job or improving my language skills, I look to swimming and see how far I have come -- persistence, practice and patience one step at a time. I also remember there key people along the way, [both] in and outside of the pool, who have guided me. Incredible things can happen when you show up and just do it."
Read more...
---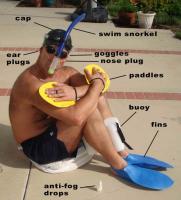 I'm Addicted!
With my back troubles, swimming has become my main source of exercise. Naively, I thought that all I'd need to practice this sport was a swimsuit (and that only because of modesty). Wrong! There is nothing more addicting than swimming paraphernalia. Let me tell you my sad story.
I quickly realized that goggles were a must, unless I wanted to bang into the walls. So I headed to the local swimming paraphernalia dealers in the area, the seemingly good folk at the Swim Depot. Now, you'd think purchasing a set of goggles would solve my vision issues. Wrong again!
Read more...
---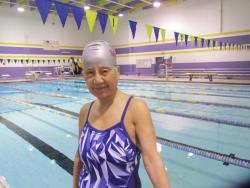 One Thousand Miles of Butterfly
Peony Munger loves swimming and loves the butterfly stroke. While many Masters swimmers may feel the same way, Munger is the only one we know of whose love has carried her through 1,000 miles of butterfly over the past four years, one continuous mile at a time. She's not resting on her laurels, though. Her next goal is to complete a virtual all butterfly swim across the United States.
Read more...
---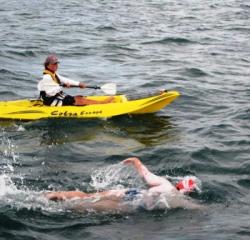 Beth Barnes: A Different Kind of Escort Service
Beth Barnes sent us her thoughts on her work as a kayak escort for open water swimmers in the following piece. We found it interesting to consider open water swimming from her perspective and decided to interview her for the July-August issue of SWIMMER magazine in our "Out in the Open" column. For this web feature, Barnes writes about what it is like to paddle next to a swimmer hour after hour.
Read more...
---
A New Swimmer's Nationals
"I'm going to need my hand here for a second," pleaded my husband Tom as he moved his blue fingers back to the steering wheel and out of the vice grip my hand had formed over his. Brake lights flashed red across all four lanes but did nothing to slow the out-of-control, speeding heart that pounded in my chest. I could feel the air struggling to dry sweat that seeped from the palms of my hands. Drawing a deep breath was the only way I'd been able to stop these paralyzing episodes over the last few days. Now, letting out a deep sigh, I kept telling myself, "It'll be ok, it'll be ok." But the fear did not subside.
Read more...
---
And Suddenly ... It's Summer! Open Water Championship Season
If you're like many swimmers, you click into the USMS Open Water and Long Distance page sometime early in the year and dutifully mark your calendar with the upcoming championship events, imagining yourself come summer in wonderful places like Florida, Noblesville, Lake Placid, Oregon, Coney Island and Wisconsin, enjoying all there is to experience at a USMS National Championship. Then, the months go by and the snow finally disappears. Then, the dogwood and azalea blossoms vanish too. And suddenly it's summer. Time for the USMS Open Water National Championship season!
Read more...
---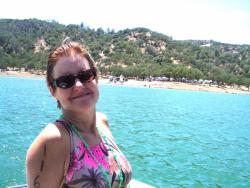 First Saturday in June: Memories, Water, and Me
It looks kinda cold," I say to the 20-ish young man who reminds me of my son as we survey the water from the lake's edge. "I may not do the two-mile if it's too cold."
"Oh, naw, it's not bad," he says, his foot in the mud-tinged water edge of Lake Berryessa. "I'm sure you can do it. Did you hear them say it was 70 degrees?"
The air is sparkling, and the sun is warming the lakes and reservoirs around California. Apricots and cherries are being picked in the orchards near Lake Berryessa, a little more than an hour east of San Francisco. The Lake Berryessa Swim is the second stop in the H20 Open Series.
Read more...
---
One Swimmer's Mesa Experience
I've been asked quite a few times now how my trip went to Mesa, Ariz. In short, this was the single most inspirational event I have ever attended.
While there were over 1800 of the top qualifying Masters swimmers in the world attending this year's events, the inspirational highlight for me was turning around and coming face to face with a guy that was my swimming idol growing up, 52-year-old Olympic gold medalist, Rowdy Gaines. He swam in the heat before me, setting the world record in the 50-yard freestyle with a time that would be the envy of most collegiate swimmers 30 years younger. It was pretty amazing when you think in 1992, this awesome athlete was near death, paralyzed from the neck down with nerve issues due to Guillain-Barre' syndrome, which can cause permanent paralysis in the muscles of the trunk, arms and face.
Read more...
---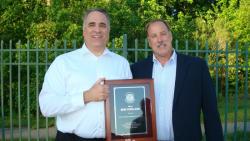 Past President Rob Copeland Honored with Ransom Arthur Award
Immediate Past President Rob Copeland was honored with the Capt. Ransom Arthur M.D. Award, USMS's most prestigious award. Copeland has served USMS for over 25 years and has been involved at all levels in each of the LMSCs he has resided in over the years. The award was presented by President Jeff Moxie, and a speech was read at Spring Nationals in Copeland's honor by Vice President of Administration Michael Heather. Look to the July-August issue of SWIMMER for more about this dedicated volunteer.
---
Final Day at Spring Nationals
Day Four brought more sunshine and fast swimming. Join Olympians Misty Hyman, Rowdy Gaines and USMS Executive Director Rob Butcher as we wrap up the last day of competition here in Mesa, Ariz. We checked in with mother and daughter competitors Laura and Jamie Val, as well as father and son Floyd and Jared Fisk. Fred Klein, at 95 years old, is relatively new to Masters swimming, and enjoying his new experience. We caught up with Jamina Winston, one of the meet volunteers from Mesa who has been working tirelessly behind the scenes to make this meet successful. And we saw Bill Specht and Paul Carter, who have been swimming against each other for 40 years, swim the 100 fly. And finally, Misty visits with swimmers on deck and finds out what they liked best about the 2011 USMS Spring Nationals.
---