Features
USMS Unveils "We Are U.S. Masters Swimming"
We are excited to release our new video, "We Are U.S. Masters Swimming." For those of you who are new to USMS, this video will give you a snapshot of who we are. For those of you who are longtime USMS members, you may just fall in love all over again. The video lives on our YouTube channel and we encourage you to share it with everyone. Webmasters can post a link on their websites, swimmers can share it through their own social networks. Let's show the rest of the world who we are.
---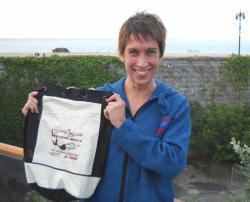 An Open Water Tour of New York: From Coney Island to Lake Placid
"It izz hen onnah!"
The thick New York accent didn't keep me from understanding the grinning kayaker in aviator sunglasses and a wide brimmed hat. I was fighting the current and about 500 yards from the finish of the 5K Open Water National Championship at Coney Island, hosted by the Coney Island Brighton Beach Open Water Swimmers. This kayaker—I never got his name—was yelling at the top of his lungs over and over: "Swim to the red boat, then you'll see the white buoy. You're almost there!" I popped up to make sure I understood and then thanked him profusely for his efforts. (I'm rarely in a race for anything in open water races, so I can talk to the kayakers. Mostly I ask if I am last.)
Read more...
---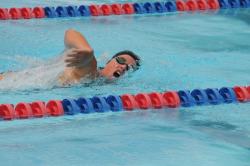 Bet You Can't Swim Just One!
If you were one of the nearly 3000 swimmers who entered the 2011 USMS 1-Hour Postal Swim (OHP), then you have a chance to do what very few swimmers do each year: complete the USMS Postal Challenge and earn the most elusive patch of all for the accomplishment.
What is this thing? The Postal Challenge goes like this: USMS holds five long distance postal championships each year: the 1-Hour, 5K, 10K, and the 3000- and 6000-yard events. Swimmers who complete all five championships in the same year will be sent a participation patch to honor their achievement.
Read more...
---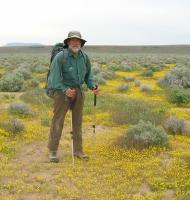 530 MIles of Cross Training
Masters swimmers swim for the love of the sport, but luckily with sports you don't have to be monogamous.
Sometimes what talented members of U.S. Masters Swimming do outside of the water is as amazing—or even more so—than what they do in the water. This past spring Tom Landis, 69 and a member of Oregon Masters, temporarily traded his goggles for hiking boots and walked 530 miles across Southern California. The hike, which Landis named the "River to Sea Trek," was the longest in a series of backpacking trips Landis has enjoyed for years. He thinks of these long trips as good cross training for swimming.
Read more...
---
Day 4 in Auburn
The last day here in Auburn has been every bit as much fun as the first three. Today's interviews include Larry Wood, world record setter Larry Day, Skip Thompson, Officals Patricia Gore, Dave Smith, Ed Saltzman and Steve Goldman, Tina Wallen from Colorado Timing, and national record setter Diann Uustal,
---
Summer Nationals 2011 Day 3
Rob Butcher and Misty Hyman talk with more athletes today, several who are competing at nationals for the first time (including Misty herself) and several who have been swimming at nationals for many years. As always, we find stories of friendship, rivalry and inspiration. We caught up with Leslie Livingston, who goes by the screen name The Fortress on the USMS Forums. We also spoke with the legendary Tiger Holmes, who has done so much for our sport over the years and is one of swimming's greatest supporters. Donald Taylor, who flew all the way from Australia to swim here in Auburn tells us why he likes swimming in USMS meets. Roderick Sewell is here competing for his first time at a USMS nationals, and his ability to overcome physical challenge goes beyond inspiration. We also talked with Meg Smath, longtime USMS volunteer and copyeditor for SWIMMER magazine, and her teammate, Patricia Baldwin, who is competing in her first USMS nationals.
---
Day 2 at Summer Nationals in Auburn
Join Rob Butcher and Misty Hyman as they recap the day's highlights here in Auburn. Olympian Mark Gangloff, fresh from the World Championships in Shanghai, returned to his home pool with his wife Ashley in time for both of them to swim the 50-meter breaststroke. Family is always a strong theme at USMS national meets. Rob and Misty talk with USMS VP of Community Services Nadine Day and her daughter Nalani, and we meet one half of team Butcher, future Masters swimmers. We also talk with Wally Dicks, a previous Olympic Trials qualifier who has returned to the sport, as well as Niclas Ohman, who grew up in Sweden and returned to Masters swimming after Worlds was held there in 2010. Anne Dunivin, who loves to compete at the age of 95, wows the crowd with her 200 backstroke. We catch up with Beth Eldridge, who was profiled in SWIMMER in 2009 after a long bout with brain cancer. And Misty gets to sample some of Hammer Nutrition's product line-up that was available on deck to keep swimmers fueled throughout the meet.
---
Summer Nationals in Auburn--Day 1
Join USMS Executive Director Rob Butcher and Olympic Gold Medalist Misty Hyman as they recap our first day in Auburn. Swimmers contested both the 800 and 1500 freestyle events today, and 21-year-old Alison Templin decided to break both those records in her age group, in the same race. We talk with Alison and her mom, Catherine Rust, who swam and won the women's 55-59 age group in the 1500. We ran into Mark Palace, who is relatively new to swimming, and spoke with Rob Copeland, who has been swimming for most of his life. Denise Brown is here competing with an injury and we talked with John Zeigler, who collects swimming memorabilia. And be sure to watch to the end when Misty shares the training secret behind her killer dolphin kick.
---
Summer Nationals 2011 Preview
Join Olympic Gold Medalist Misty Hyman as she gives us a sneak preview of the James E. Martin Aquatic Center at Auburn University. Our vendors are set up and have already begun supplying swimmers with suits, caps, t-shirts and assorted swim gear. Don't worry if you forgot something--our vendors can hook you up. Not only is there a fabulous facility and great event staff, the famed Southern hospitality is evident everywhere you go in this small college town. We'll see you tomorrow for Day 1--the distance events--as competitors square off in the 800 and 1500 freestyles.
---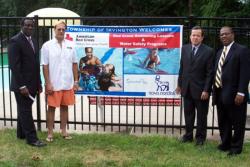 Spreading the Love of Swimming
From the unsung hero department comes Mike Roesch, 54 and a member of the New Jersey LMSC. Roesch, currently a passionate Masters swimmer, never swam at all until taking the plunge three years ago. Now, he is a veritable Johnny Appleseed of swimming. Although instead of apple trees, he plants the seeds of a lifetime love of the water in the hearts of as many children as he can. And it's all thanks to his own child. "In helping out my daughter's team with officiating and timing, it dawned on me how much I enjoy helping children." (His daughter swam competitively through high school and is now contemplating attending a military preparatory college to prepare for the Coast Guard Academy.)
And Roesch wanted specifically to help kids in his community of Irvington, New Jersey, the majority of whom are African-American. Irvington is the birthplace of Olympian Cullen Jones and a very poor area. "When Cullen Jones won the gold medal, I knew it was an opportunity to do something."
Read more...
---