Features

Long Distance Championships
There is one remaining long distance national championship event available for USMS members this year. Don't miss this final opportunity to participate in a 2005 long distance national championship:
---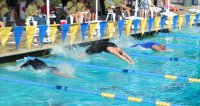 2005 Long Course Nationals
The 2005 USMS Long Course National Championships were held August 11-15 in beautiful Mission Viejo, California. Final results of all events are now available. There were 57 individual and 16 relay record breaking performances the meet.

The final team scores show San Diego Swim Masters winning the men's and combined categories and Arizona Masters winning the women's category.

Throughout the weekend, the meet was run on time with a very smooth meet flow. Congratulations to all volunteers and participants on an excellent national championship! Read more...
---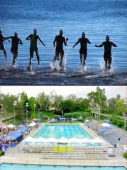 Summer Open Water and Pool Championships
There are a number of national championship events available for USMS members throughout the summer and early fall months. These events range from the long course nationals to open water and long distance championships. Entry deadlines for these events are approaching fast, so don't miss this opportunity to participate in a national championship:
Event Date
Event
Entry Deadline
July 16
results

2 Mile Cable Championship
Mirror Lake, Lake Placid, NY
July 5
July 30
1 Mile Open Water Championship
Elk Lake, Bend, OR
July 18
Aug. 7
5 Mile Open Water Championship
La Jolla Bay, San Diego, CA
July 16 (early),
Aug 3 (late)
Aug. 11-15
Long Course Nationals
Mission Viejo, CA
July 13
Sept. 10
2.5K Open Water Championship
Lake Michigan, Chicago, IL
Aug. 31(early),
Sept. 10 (late)
May 15 -
Sept. 15
5K/10 Postal Championships
Oct. 1
Oct. 22
10K Open Water Championship
Gulf of Mexico, Ft. Myers, FL
Sept. 15 (early)
Oct. 15 (late)
Sept. 15 -
Nov. 15
3000/6000 Yard Postal Championships
Nov. 25
---

July/August Issue of USMS SWIMMER Available
The July/August 2005 Issue of USMS SWIMMER is now available. Members should be receiving their copies in the mail this week. This issue features a pictorial essay on improving your freestyle starts, with tips from Masters world record holder Clay Britt. Also featured is the extraordinary tale of Masters swimmer Dimitar Kalchev, who swam to freedom from communist-controlled Bulgaria to Turkey, as well as features on protection from the sun while swimming and difficulties in working a regular exercise routine into a busy schedule. Read more...
---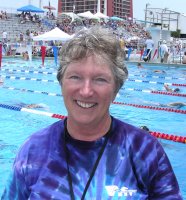 Betsy Durrant Named 2005 Ransom Arthur Award Recipient
Betsy Durrant was announced as the recipient of the Ransom Arthur Award at the 2005 USMS Short Course National Championships in Fort Lauderdale. The award is given annually to the person who has done the most to further the objectives of Masters swimming.

Betsy has held a wide variety of positions in the Virginia LMSC and at the national level since joining USMS in 1975. She is currently the chair of the USMS Planning Committee and has been instrumental in the Governance Task Force that has recommended the restructuring of national offices and the USMS Board of Directors. Her leadership in this area will result in a transformed USMS governance structure and will ultimately strengthen our ability to further the goals of our organization. Read more...
---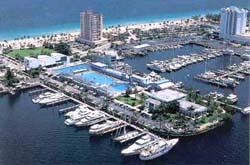 2005 Short Course Nationals
The 2005 USMS Short Course Nationals were held May 19-22 at the Fort Lauderdale Aquatic Complex in Fort Lauderdale, Florida. 1,620 swimmers representing 174 teams were entered in the meet. There were 44 individual and 8 relay record breaking swims at the meet. Full results of all events are now available for this meet. Read more...
---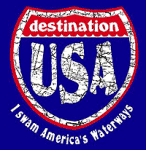 2005 Virtual Geographic Swim Series
Join others throughout the country and world in applying any pool lengths you complete towards virtually swimming some of the most important bodies of water in the US. Each swim was designed by a Masters swimmer who lives close to the featured waterway. Some of our virtual swims are actually open water courses, and others are waters most would not dare to swim in reality. These Virtual swims are also designed to educate you about the different places, and perhaps, lure you to visit someday. Read more...
---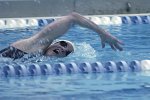 2004 Long Course Nationals
The 2004 USMS Long Course Nationals were held August 12-15 at the Chatham County Aquatic Center in Savannah, Georgia. 1,084 swimmers representing 155 teams were entered in the meet. There were 30 individual and 5 relay record breaking swims at the meet. Full results of all events are now available for this meet. Read more...
---