Features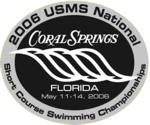 2006 Short Course Nationals
The 2006 USMS Short Course National Championships are now complete. The meet brought good times, good weather, and great swims to those who traveled to Coral Springs. Final results of the meet are now available. There were 55 individual and 4 relay record-breaking swims this weekend. Gold Coast Masters took the overall team title for the men's and combined categories while Colorado Masters took the title in the women's category. Congratulations to all who participated and especially those who volunteered to make this a fantastic event. Read more...
---

May / June Issue of USMS SWIMMER
The May/June 2006 issue of USMS SWIMMER magazine has been mailed to members and subscribers. In this issue's cover feature, writer Amy Wu explores how water exercise offers a low-impact cross-training alternative for anyone who enjoys the water. Swimming butterfly is another great way to intensify a workout. Simon Percy of the Sun Devil Masters in Arizona shares some creative ways to improve your fly. Writer Cari Parven visits with Karen Einsidler of the Metro Masters and Mike Shaffer of the Ventura County Masters in California. Both faced serious health situations, and their stories are sure to motivate you. Plus, Masters swimmer Dick Guido shares an uplifting account of his peers from the WWII generation of swimmers. Read more...
---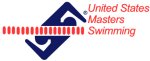 USMS Executive Director Search
USMS is in the process of hiring our first Executive Director. This is a significant step in the growth and maturation of our organization. To assist us in the identification of qualified applicants USMS has engaged Anderson & Associates, an executive search firm. Persons interested in obtaining more information or applying for this position should contact Martin Godwin at Anderson & Associates at mgodwin@andersonexecsearch.com by April 7, 2006. Read more...
---

March / April Issue of USMS SWIMMER
The March/April 2006 issue of USMS SWIMMER magazine has been mailed to members and subscribers. Featured in our first anniversary issue is a preview of the XI FINA World Championships, Aug. 4--17 at Stanford University. Raena Latina explores how a number of USMS clubs have successfully ushered in the Masters swimming youth movement through active recruitment of the 18–24 age group. Writer Bekah Wright explores how the longtime involvement of the Tingley family has fostered the growth of Masters swimming in the Bluegrass State. Across the country, coach Bob Bruce shows us how to fine-tune some of the key technical points leading up to the 2006 open water season. Finally, writer Michael Stott demystifies stretching with advice from the experts, sample exercises and resources. Read more...
---

January / February Issue of USMS SWIMMER
The January/February 2006 issue of USMS SWIMMER magazine has been mailed to members and subscribers. This issue of SWIMMER presents another solid lineup of great features and news items to help you set goals and achieve them. 1990 USMS Coach of the Year Mike Collins narrates a pictorial essay on Breaststroke Kick Drills. To help you with your swimming goals, writer Bekah Wright explores ideas and opportunities for shaking up your normal routine and stretching outside your comfort zone. Writer Christine Ennulat visits with Lucky Meisenheimer, to find out just what makes him so unique. Rounding out the main events is a feature on USMS Short Course National Championships in Coral Springs, Fla., coming up May 11-14. Read more...
---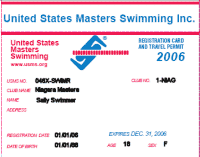 2006 Registration
It's that time of year again, time to renew your USMS membership for the 2006 year. Don't miss out on the opportunity to participate in the early winter season events, including the USMS One Hour Postal Swim and the Check-Off Challenge, as well as a wide variety of locally sanctioned events. Keep your membership active in order to maintain your subscription to USMS SWIMMER magazine, the official publication of USMS. Membership renewals or new memberships received now will be valid through December 31, 2006. Don't delay, renew your membership now! Read more...
---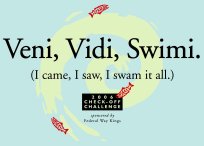 2006 Check-Off Challenge
Federal Way Masters is proud to announce the availability of the 2006 USMS Check-Off Challenge. This USMS fitness event challenges swimmers to make a check list and swim each of 18 swimming events found in pool competition at least once during the calendary year. The participating swimmer will get a T-shirt in advance, which will list the 18 swimming events on the back. As you swim the events, simply check them off on the back of the T-shirt using an indelible marker. You can swim them during practice, during a swim meet, during an organized open water event, or during an organized open water training session -- any time, any place, at your own pace! Read more...
---

November / December Issue of USMS SWIMMER
The November/December 2005 issue of USMS SWIMMER magazine has been mailed to members and subscribers. This issue's cover feature is about Margery Meyer who at the age of 64 decided -- with no background in competitive swimming -- to become a world-class competitor. Also featured is a piece titled "The Zen of Swim" about the meditative high that can be achieved in a workout by becoming one with the water, a training piece on achieving super streamlines, and a piece where Medical experts and USMS members offer their insights on proper nutrition and training to help older, active swimmers maximize their fuel.
---

2005 USMS Convention
The annual USMS Convention was held September 14-18 in Greensboro, NC. Over 200 delegates representing the 42,000 USMS members were in attendance. Results from the convention, including the first election of the newly constituted Board of Directors, all meeting minutes, 2007 championship bid results and lists of all awards presented are now available. Read more...
---

September/October Issue of USMS SWIMMER
The September/October 2005 issue of USMS SWIMMER magazine was mailed to members this week. This issue's cover feature is about Olympian Brian Goodell's return to to the sport as a Masters swimmer. Also featured is a piece on swimmers trying out a triathlon, a training piece on perfecting the body roll in freestyle, and input from sports psychologists and fellow Masters swimmers on dealing with training plateaus.
---