Features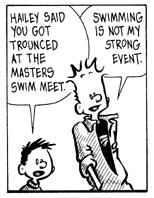 Cartoonist Featuring Masters Swimming on Comics Pages
Cartoonist and USMS member Jef Mallett is making his mark on the comics section of newspapers across the country. His popular "Frazz" comic strip is featured in many US newspapers. The strip recently featured a series with a theme that is familiar to many Masters swimmers.
Read more...
---

March / April USMS SWIMMER
The March/April 2007 issue of USMS SWIMMER has been mailed to members. The technique feature cover story by Terry Laughlin presents four technique focal points that, when practiced mindfully, can lead to "tireless swimming" in open water. Rounding out the feature well is a personality feature on Ted Haartz, a report by Cathy Tibbetts on the 2006 Hawaii Ironman and a primer on preparing for distance swimming this summer.
---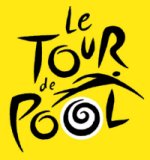 2007 Check-Off Challenge
How many different events do you swim each year? If you are like most Masters swimmers, you probably only enter a handful of different events over the course of the year and find yourself swimming the same events over and over. If so, the USMS Check-Off Challenge is for you. This USMS sponsored fitness event lets you challenge yourself to enter and compete in each of the 18 pool events some time during the year. Participants will receive a T shirt with the event logo and a list of each of the events that you can "check off" as you swim them throughout the eyar. Don't delay in entering this event - the second and final mailing of T shirts is scheduled for mid-March including all entrants on record as of the end of February. The entry form can be found here.
---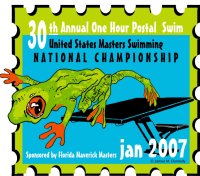 2007 One Hour Postal Swim
How far can you swim in one hour? The most popular postal event sponsored by USMS is back again this month. Anyone can participate in their own pool any time in January by swimming as far as they can in a one hour period while a friend or team mate logs your yardage and splits. The entry form for the one hour postal swim is available for download here. Dr. Paul Hutinger of the Florida Mavericks has also provided useful training tips for swimmers wishing to join in on the one hour swim.
---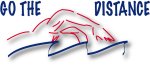 Go The Distance
A new fitness event is being offered by the USMS Fitness Committee.  The name of this new challenge is "Go the Distance"!  

The objective of this event is for participants to track the distance they swim during the year 2007.   When participants achieve specific distance milestones of 50 miles, 100 miles, 250 miles, 500 miles, 750 miles and 1000 miles – they will be recognized on the USMS website and awards will be available for purchase (for a minimal fee). There is no cost to enter this event. Read more...
---

January / February USMS SWIMMER
The January/February 2007 issue of USMS SWIMMER has been mailed to members. The cover story is a feature on keeping up with Jody Smith, the dynamic facilities manager at Stanford University's Avery Aquatics Center. The regular technique feature has Coach Ron Johnson describing and demonstrating Sculling Drills. Jim Thornton, takes a look at hydration needs of athletes and Amy Wu writes a "how to" for beating the Winter Blues. See Winter Blues Q&A and Winter Workouts for extra information. Finally, don't forget to check out the preview of 2007 Short Course Nationals at Federal Way.
---

November / December USMS SWIMMER
The last issue of SWIMMER for the year has been shipped to members. The cover story features tips for proper positioning when swimming backstroke, courtesy of coach Dan Peck. Other features include a visit to coach Ron "Sickie" Marcikic, a look at technological innovations in swimming, and the benefits of workouts during and after pregnancy. The main events are rounded out by an "Earn Your Turkey Dinner" web workout from Lucy Johnson, former coach of UCI Masters in Irvine, Calif. and reports from the USMS Annual Convention in Dearborn, Mich.
---

September / October USMS SWIMMER
The September/October 2006 issue of USMS SWIMMER will be in your mailbox soon. Shipment was delayed for this issue to hold space for an eight page pictorial feature on the XI FINA World Masters Championships. In addition to the worlds coverage is a feature on Optometrist, ultra-runner and triathlete Cathy Tibbetts; a dryland exercise program from Matt Wren that focuses on strength, stability and core stabilization; and a report on Masters swimmers' experience one year after Hurricane Katrina. Rounding out this special issue is the web workout by Dick Pitman containing a full weeks' worth of workouts to get us back to swimming between the walls after a summer of open water.
---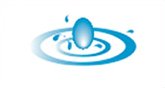 XI FINA Masters World Championships
The Swimming and Water Polo portions of the XI FINA World Masters Championships concluded with the open water swim on Saturday August 11 and the Water Polo championship games on Sunday August 12. A PDF file with the complete swimming results is available here (1.4 MB), results by event are available in the real time results area, and a downloadable zip archive containing a text file with results for each LMSC is available here (useful for LMSC newsletters).
The championships also featured Diving competition from August 13-16 and Synchronized Swimming from August 13-17. There were over 7,200 entrants (over 5,500 swimmers) representing 74 countries entered in this championship meet.
---

July / August Issue of USMS SWIMMER
The July/August issue of USMS SWIMMER magazine has been mailed to members and subscribers. In this issue's cover feature, Coach Mark Moore of the Mission Viejo Nadadores Masters examines proper body alignment and balance for freestyle efficiency. Raena Alexis Latina visits with Joel Stager, Director of Indiana University's Counsilman Center for the Science of Swimming. Margaret Schauer explores how masters swimmers can become ambassadors for the sport of swimming. Rounding out the feature well is a preview of the FINA Masters Championships, including profiles of an athlete or team from each of the five sports.
---