Features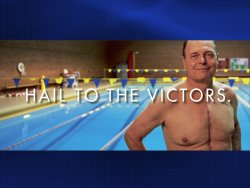 What is the Value of Swimming?
Are you battling a health condition? Do want to meet your future mate? Do you want to inspire your kids? Is your job stressful and you just need some balance? Are you new to an area and looking to make friends?

Why did you join your local masters club and USMS? Four very different USMS members share their stories of how swimming has changed their lives. Read more...
---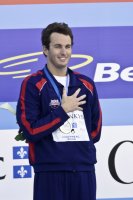 Olympic Gold Medalist and USMS Member Aaron Peirsol Races for the Oceans
Twenty years ago Aaron Peirsol didn't know how he was going to make a difference in the water pollution that he saw growing up in Southern California. Today, Aaron races for the oceans. Find out how Olympic gold translates into clean water.
Read more...
---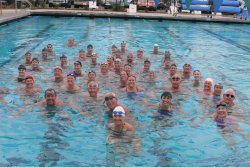 Why Join a Masters Program, and Why Join USMS?
Is it worth it? What's in it for me? What do I get if I join?
USMS Executive Director Rob Butcher shares a conversation we've all had and USMS Features answers your burning questions…
Read more...
---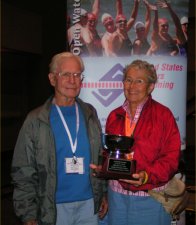 2008 Convention Wrap-Up
The 2008 USMS Annual Convention was held in Atlanta, GA September 24 - 28. Executive Director Rob Butcher addressed the House of Delegates in the opening meeting, and the Board of Directors and House endorsed the action plan for USMS and approved the associated budget. Convention results, including election results, the awards presented, selection of 2010 championship venues and meeting minutes (when available) are viewable in our convention wrap-up. Read more...
---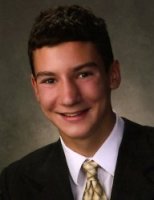 Michigan Masters Awards Scholarship
Michigan Masters, under the leadership of Fred Nelis, Chairman of Michigan Masters, and Ralph Davis, Michigan Masters Vice-Chair, developed a program to promote and provide financial assistance to children of Masters swimmers in Michigan.

Griffin Williams is this year's recipient of the Michigan Masters Swimming Scholarship. Griffin was co-captain of his Kalamazoo High School swim team, an Eagle Scout, and maintained a grade point average of 3.91. He is attending Carleton College in Northfield, Minnesota.

The award is not restricted to swimmers but is intended to provide qualified swimmers financial assistance in attending a college or university. The hope is that even if a scholarship is awarded to a non-swimmer, he or she might consider joining our organization in the future. Read more...
---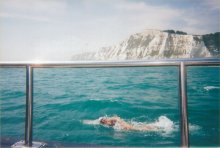 Rendy Lynn Opdycke Completes the Triple Crown of Marathon Swimming
The "Triple Crown of Marathon Swimming" consists of the 28.5-mile Manhattan Island Marathon, the 21-mile English Channel, and the 21-mile Catalina Channel. Approximately 25 people have completed the "Triple."

On Saturday, Aug. 9, 2008, Rendy Lynn Opdycke swam the Catalina Channel, from Catalina to the California mainland, in 8 hours, 28 minutes. This was the third fastest directional time for a woman and the sixth fastest time overall out of 145 people who have swum the channel solo since 1927.

With this swim, Rendy Lynn became only the second swimmer to accomplish the Triple Crown in less than a year. She completed all three swims in 34 days, the shortest period ever recorded. She did Manhattan on July 5, England on July 27 and Catalina on August 9. Her total swimming time for completing the three is also the fastest ever, at 26 hours, 50 minutes.

She is a member of the La Jolla Cove Swim Club that promotes ocean swimming and supports its members in their aquatic adventures. La Jolla Cove Swim Club members David Clark and Paula Selby were instrumental in making Rendy Lynn's goal possible.
---

The International Masters Swimming Hall of Fame Inducts Six: Two Current USMS Members Honored
On Friday, September 26th at 7:00 p.m., six outstanding Masters athletes, two of whom are current Unites States Masters Swimming members, will be inducted into the International Masters Swimming Hall of Fame (IMSHOF). Jim McConica, Ventura County Masters, and Bob Strand, The Olympic Club, will be acknowledged as outstanding athletes and contributors to the Masters swimming community. Both men hold multiple USMS and world records and continue to "wow" swimming enthusiasts around the world with their commitment to "impossible" feats and dedication to healthy lifestyles. Read more...
---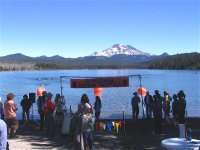 13th Annual Cascade Lakes Swim Series and Festival
The Oregon LMSC held the 13th annual Cascade Lakes Swim Series and Festival from August 1 - 3. This swim festival is located in Elk Lake, Ore., which is one of the Cascade Lakes. It is a picturesque mountain lake at 5,000 feet elevation surrounded by the South Sister and Broken Top Mountains. Mount Bachelor is just a few miles down the road. The water temperature of the lake was 67 to 71 degrees F.

The events included the USMS 5K National Championship [results] plus separate 3K, 1500, 1000 and 500 swims. This truly was a weekend of swimming, relaxing and socializing as this event had something for everyone. Read more...
---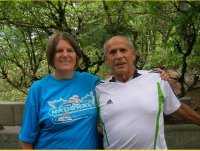 Club Development
The USMS Club Development program wants to help your club. One of the key factors in our USMS Strategic Plan is membership growth and retention of members. USMS has funded a pilot program for the sole purpose of assisting workout groups, clubs and teams develop their adult aquatic fitness programs.

The program will bring a USMS expert to your community to provide mentoring on building and growing your program. Clubs and workout groups must understand the different reasons why people swim, and by focusing on recruiting members who seek benefits the club offers, the group can better serve and keep new members. If you are interested in participating in this program, which is fully funded by USMS, please contact Mel Goldstein at (317) 253-8289 or via email.

USMS is excited to provide this program to your club or workout group!
---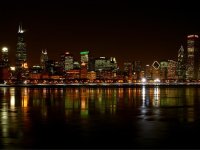 Chicago Skyline Swim
Imagine starting out on a 23.4 mile swim at seven o'clock at night, knowing you'll be swimming for a minimum of 12 hours through the night, the dark, the unseen and the unknown. On Wednesday evening, July 30, David Blanke, Austin, Texas, age 48; Marcia Cleveland, Winnetka, Ill., age 44; and Chris Layton, Chicago, Ill., age 49, set out on this adventure, a tandem swim from one end of Chicago to the other, north to south.

All three are seasoned open water veterans, with accomplishments such as the English Channel, Catalina Island, Strait of Gibraltar, Manhattan Island, Big Shoulders and similar events to their credit. The swim was three years in the making. For the past six months, each has been training about 30,000 to 35,000 yards a week. Read more...
---