Features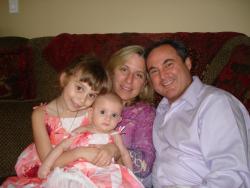 Keith Hoffman is a Swimmer with a Mission
Like many people who find their way back to swimming at midlife, Keith Hoffman is looking forward to taking his swimming to the next level at Summer Nationals. But his real passion is raising awareness about prostate cancer. Hoffman, 53, was diagnosed with prostate cancer in the summer of 2009 and had successful surgery to remove his prostate gland two weeks later. In 2010, this member of Nitro Masters in Austin, Texas proved to himself that his life wasn't over by posting a blazing time in the 100 breaststroke that was only a hair slower than his best time at age 45.
Even though he is competitive, he sees swimming as "his fitness for life" activity. Hoffman believes swimming helped to resuscitate his quality of life and his zest for life after his cancer and surgery.
Read more...
---
2012 Spring Nationals -- Day Two
Day Two progresses as we pass the halfway mark here in Greensboro, N.C. Rob Butcher, USMS's executive director, and Eney Jones recap today's events, starting with the announcement of the Capt. Ransom Arthur M.D. Award, presented by USMS president, Nadine Day. This year's honoree is longtime volunteer, Doug Church. We also catch up with Karlyn Pipes-Neilsen, one of Masters swimming's most decorated swimmers, back after a two-year hiatus from competition; and Louise Murray, a retired English teacher who didn't start swimming until she was in her 30s. We got the chance to see Olympian Todd Torres and Olympic Trials qualifer Steve West throw down in the 50 breast. Eney Jones checks in with seven-time Olympic medalist Amanda Beard, and we follow Scott Bay, the coach of Team Blu Frog, as he takes his swimmers through the 200 freestyle.
2012 Spring Nationals Video Gallery
---
2012 USMS Spring Nationals -- Day 1
Distance day here in Greensboro, N.C. Eney Jones talks with some swimmers who traveled a great distance to attend Spring Nationals. The Royal Marines from England, Joanne Wainwright from Alaska, and Kate Carr from the Pacific Northwest. We also caught up with Billy Gaines, the entrepreneur who started the World Series of Beer Pong, and we found out what swimming and beer pong have in common.
2012 Spring Nationals Video Gallery
---
Spring Nationals Preview
Join Eney Jones as we take a look at the brand new Greensboro Aquatic Center as swimmers are starting to arrive for Spring Nationals. Eney checks out the state-of-the-art features of the faciity and explains why we'll see some fast swimming here this weekend. We talk meet directors Don Gilchrist and Hill Carrow, as well as Susan Braman, the GAC manager.
2012 Spring Nationals Video Gallery
---
2012 Spring Nationals -- Day Four
Wrapping up the 2012 Spring Nationals at the Greensboro Aquatic Center, Rob Butcher and Eney Jones follow coaches Marty Hendrick and Rick Walker as they coach their swimmers and help them meet their goals. We also meet friends and families who have met through Masters swimming and who stay connected by attending meets together: The Knowles family from the Bahamas, who are attending their 7th USMS Nationals, as well as Kim Crouch and AJ Block, best friends through USMS. We talk with Ken Rice and Shericka Rice, who got married the day before Spring Nationals and are here on their honeymoon. And lastly, we speak with meet referee Joel Black, who talks about the number of officials and volunteers it takes to pull off a meet of this size.
2012 Spring Nationals Video Gallery
---
2012 Spring Nationals -- Day Three
Today Rob Butcher and Eney Jones are joined by legendary NCAA coach David Marsh, who heads up Team Elite, a program for post-graduate athletes who are training for the Olympics. Coach Marsh joins three of his team members and anchors a relay. We talk with Jeff Roddin, Chair of the Championship Commitee, here swimming with his wife, Julie Roddin, and both his parents, Hugh Roddin and Ruth Roddin. Eney checks out the Compex muscle stimulation system at the Hammer Nutrition booth with Laura LaBelle, and walks around to check out what people have in their swim bags. The 50 freestyle is never a dull event, but Team Elite members breaking the 20-second barrier in the final heats had the crowds on their feet. We chat with Cullen Jones and Bryan Lundquist about what they like about swimming in USMS Spring Nationals.
2012 Spring Nationals Video Gallery
---
"This is Living"
Kimberley Chambers dives into adventure, and when she is in over her head, she just swims harder. She has chosen to live life this way after almost losing her leg. Her attitude is propelling her to accomplish some amazing open water feats, including crossing the notoriously violent Cook Strait in 8 hours and 26 minutes on March 5, 2012.
Cook Strait separates the North and South islands of New Zealand. It is 16 nautical miles wide and part of the Ocean's Seven swim series. Fewer than ten people attempt it each year, and fewer of half of those make it to the other side. There are only a handful of tide windows during the season when it can be done, and the area is extremely windy even on a good day. According to cookstraitswim.org, sharks are encountered in one out of every six swims, but so far there have been no attacks.
Read more...
---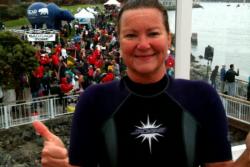 Diana Schabert Swims4Fun
Diana Schabert is spreading the word that swimming is fun and can take you places you never thought you would go. She wants to share her story because "swimming makes me feel so good, and it's just so nice to share that feeling with other people."
"Swimming is life, health, and happiness to me," writes Schabert, 48. "I began swimming in high school. I was on the swim team, never very good but I did have endurance. It wasn't until my husband lost his kidneys before I really began swimming again. I went to college for the first time at 30 years of age, eventually getting my associates degree [at Chabot College]. More importantly, swimming came back into my life."
Read more...
---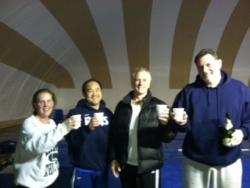 Mark Lambert's Accidental Streak
When Mark Lambert's son headed off to college last fall, Lambert decided to make swimming a habit. Although this low-key swimmer claims it wasn't on purpose that the habit turned into a streak, on January 5, 2012, he swam his 100th practice in a row. His proud teammates toasted him with champagne at 6 a.m. "We popped the cork right at the end of practice," says Lambert.
Read more...
---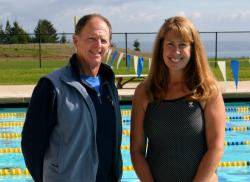 Eleven Miles for Eleven Years
When you are tackling something as big as the width of Lake Tahoe, it helps to have a calm and experienced hand on the rudder. Jeri Gintert says she didn't have enough swimming experience to be confident in her own abilities or calm about anything. But she was confident in her coach, Joel Wilson, 63, of Santa Cruz Masters.
Gintert's successful crossing of Lake Tahoe took her six hours, three minutes and one second. And eleven years.
Read more...
---