Features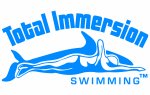 Sponsor Spotlight: Total Immersion
A U.S. Masters Swimming partner and staple in the sport of swimming provides insight into mindful swimming. Total Immersion and its founder, Terry Laughlin, are changing the way people think and swim...
Read more...
---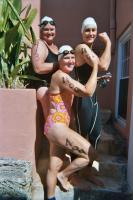 Swimming Sisters
Often a family affair, swimming continues to bring families together. When these swimming sisters planned to swim at an open water event in Bermuda the plan was to use one another for moral support as well as teamwork through the rough waters. When the race started each sister put it all on the line and came home with a 1st place, a 2nd place, and a 13th place honor. Coming from a family in which All-American accolades run through its blood, Rebekah Elliott, Ruth Battle and Elisabeth Elliott Deal use swimming as a wonderful excuse to reunite each season...
Read more...
---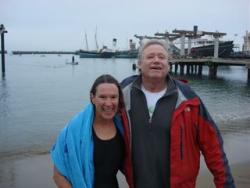 A Masters Swimmer's Return to College Swimming
A well-known Masters swimmer returns to college swimming after decades. Read about her expectations for this unique experience and how her new team is accepting her...
Read more...
---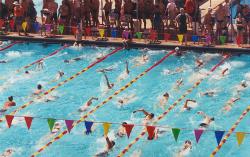 Janel Jorgensen: Champion in the Water and in the Fight Against Cancer
Janel Jorgensen, member of the 1988 Olympic team and current member of U.S. Masters Swimming, has pursued a life-long career in the sport she loves. In an interview she speaks about her inspiration, her love for the sport of swimming, and her efforts to help her dear friend and coach, Richard Quick.
Read more...
---
2009 U.S. Masters Swimming Short Course Championship and the 1-Mile Open Water Championship
The 2009 U.S. Masters Swimming Short Course National Championship and the U.S. Masters Swimming 1-Mile Open Water Championship will be held May 7-10, 2009 and May 11, 2009, respectively. You are already qualified, now you just have to register! Meet information and online registration are now available...
Read more...
---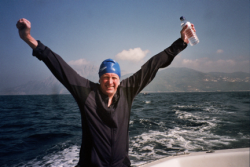 A Goal, A Plan, and the Satisfaction of Achieving a Dream
Not the cold, nor the waves, nor the exhaustion could keep a U.S. Masters Swimming member from reaching the finish line. On September 17, 2007 a U.S. Masters Swimming member became the 175th person and the 24th American to swim across the Strait of Gibraltar.
Read more...
---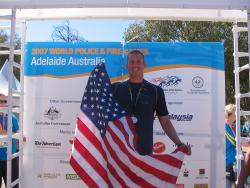 Saving Lives, Swimming Fast and Rocking Out
Damon Tucker of the Southern Pacific LMSC is an investigator for the District Attorney and spends his free time either swimming in the University of California at Irvine pool or leading his rock band at various gigs throughout Southern California. Did we mention that Damon is also a multi-medal winner at the World Police and Fire Games...
Read more...
---
1-Hour Postal Championship
The 1-Hour Postal Championship is the biggest U.S. Masters Swimming event each year, and it's not too late to participate. You're already qualified so grab your suit, ask a friend to count, and set the clock...
Read more...
---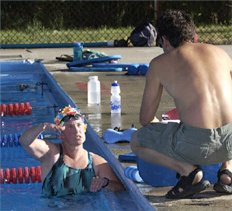 Workouts Available to Members Online
How would you like to have workouts delivered directly to your e-mail box?
U.S. Masters Swimming has four coaches who post weekly workouts on our Discussion Forums. As a U.S. Masters Swimming member, you can view these workouts online or subscribe to these workout threads and have them delivered to you by e-mail.
Read more...
---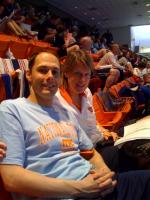 A New Year, a New You: SwimMAC Masters Teams Up
Facing a big goal alone can be scary and, sometimes, friendly encouragement can be the difference between falling short of a goal and celebrating the accomplishment of one. Don't know how to team up? A North Carolina Masters program developed a friendly competition, teamed up their members, and asked, "Who's going to be the biggest loser?"
Read more...
---