Features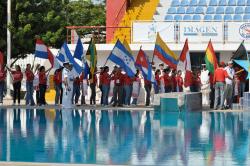 USMS Members South of the Border
Competing in the Pan American Masters Swimming Championship in Veracruz, Mexico, turned into an adventure of sorts for a group of U.S. Masters Swimming members. The event, held the week of October 27th through November 1st, was the largest in the four-year history of the meet. There were 741 competitors representing eight different countries including 26 swimmers from the U.S.
Read more...
---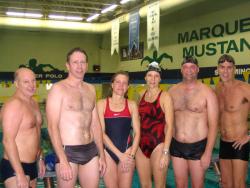 Black Friday Challenge
Black Friday is not for the faint of heart. It often requires pushing through a crowd to get to the sale rack, high levels of endurance to speed walk through the mall, and motivation to stick it out until the last gift has been purchased.
The swimmers of St. Louis Area Masters (SLAM) avoid the crowds and sometimes never make it to the mall. They do, however, challenge themselves in the pool. Each year SLAM hosts a day-after-Thanksgiving swimming event that challenges even the toughest of Masters swimmers: 100 x 100s. Much like other Masters programs across the country, this Black Friday event has become a tradition that swimmers like Scott Halliburton and Jeff Spencer and his wife Deb, look forward to each year.
Read more...
---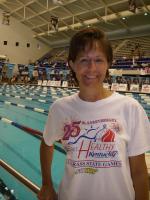 More Inspiring Swimmers from Indy
Competition often brings out the best in people, and the 2009 U.S. Masters Swimming Long Course Nationals in Indianapolis was no exception. In the November/December 2009 issue of SWIMMER, you will read about Beth Eldridge, Kyle Ediger, and Kenneth Heuck, three extraordinary Masters swimmers who overcame enormous obstacles just to live their lives, let alone compete in Masters swimming.
This week's Web Feature introduces you to two more Masters swimmers from Indy: Pam McFarland and Shaun McCarthy.
Read more...
---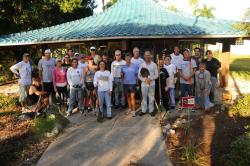 USMS HQ Clean-up Day: Powered By Volunteers
Early Saturday morning last weekend, over 30 volunteers showed up at the new U.S. Masters Swimming headquarters in Sarasota, Fla., in response to a call for help in cleaning up neglected landscaping and trash on the property. The day started at 7:00 a.m. with coffee, donuts, and bagels. The volunteers were mostly swimmers with the local USMS club, the Sarasota YMCA Sharks. Also in attendance, two members of the Sarasota Storm Triathlon Club; one member of St. Pete Masters from St. Petersburg, about 40 miles north of Sarasota; and one lone non swimmer, a member of the Sarasota County Sheriff's Office.
Read more...
---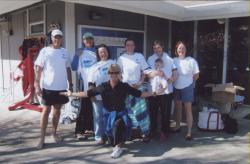 Maggie and Her Milers
As athletes, we all develop our own perceptions of what a goal is or should be: break a record, place in the Top 10, win an event. Sometimes, being able to merely finish a workout is a big enough goal to keep us working hard all season. Maggie Tevis of the Rolling Hills Mud Sharks, in Novato, Calif., was inspired to help some of her fellow swimmers set a simple goal after seeing them swim a lap and then stop because they were out of breath. "In a flash, I thought, 'I can prepare a class to teach people to swim a mile and not be out of breath at the end of their 66 laps,'" says Tevis. And she went home from the pool that day and designed a "Learn-to-Swim-A-Mile" class for adults.
Read more...
---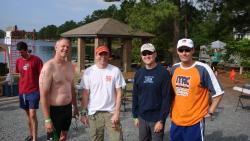 Swimming Through the Unemployment Ranks
"It could never happen to me," are the famous last words of many who have lost their jobs as the economy has taken a turn for the worse over the last 18 months. Layoffs, downsizing, right-sizing ... yadda, yadda, yadda; these terms are all too common in many of our neighborhoods. Unemployment can be scary, saddening and maddening. So, how do some Masters swimmers deal with the uncertainty of unemployment? They swim. Bill Miller of SwimMAC Masters in Charlotte, North Carolina shares, in his own words, his story of swimming through the unemployment ranks.
Read more...
---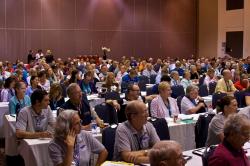 2009 Convention Wrap-up
The annual United States Aquatic Sports convention was well attended in the Windy City this past September 15 – 20. Hundreds of representatives from USA Swimming, USA Diving, USA Water Polo, USA Synchronized Swimming and U.S. Masters Swimming came together. Friends reunited, athletes shared their experiences, concerns and ideas and organizations made progress with the help of their staff and volunteers. U.S. Masters Swimming was as busy as usual and conducted legislative business, elected new officers, and honored volunteers. USMS volunteers and staff worked diligently to represent their fellow Masters swimmers and guide the organization in a positive direction.
Read more...
---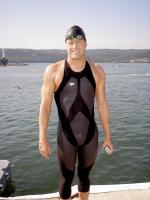 Masters Swimmers Take on the NYC Pro Swim
Since the 1800s swimmers have enjoyed the water surrounding New York City. The first recorded competitive swim through the Harlem River was held in 1872. This year, U.S. Masters Swimming congratulates two of its members who got the chance to compete with some of the best open water swimmers in the world. On September 6th, Barton Wells (pictured left) and Heidi George battled it out in the water near Governor's Island for 10K of stroking and kicking with the best in the world. The event is limited to only professional marathon swimmers and its prestige is noted; four of the six Olympic 10K marathon swimming medalists from the 2008 Beijing Olympic Games competed and multiple medalists from last summer's World Championship also staked their claim in the pack. We are proud of swimmers like George and Wells for their commitment to training and racing at the highest level.
Read more...
---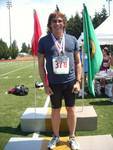 A Masters Swimmer Refreshes His Life and His Community
Most of us know all about Jared, the Subway guy. We've even seen Michael Phelps endorsing his favorite foot-long, but do you know Jim Nelson?
This Masters swimmer refreshes his life and his community and, through a national contest, is sharing the joy of the water with the entire country.
Read more...
---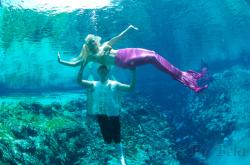 Underwater Vows: Masters Swimmers Get Hitched
Cyle Sage proposed to Mandy Zipf on the beach last year. Sounds normal enough, right? Well, this couple, both members of U.S. Masters Swimming and avid open water competitors and triathletes, planned their wedding like most: consulted a designer for a dress, picked out the music and ordered a cake. However when they said their vows and sealed them with a kiss, they were not at an altar, but underwater with SCUBA gear.
Read more...
---