Features
Wednesday: Eve of Spring Nationals
Meet Director Ed Saltzman and USMS Director of Operations Mark Gill talk about the 2010 USMS Spring Nationals being held at Georgia Tech Aquatic Center May 20 - 23.
The crew has landed here in Atlanta and our meet hosts are putting the finishing touches on what promises to be an excellent event. The friendly check-in volunteers will make you feel very welcome as you file through the check-in room on the entry level. Checking in will provide you with your goody bags, t-shirts, social tickets and VIP passes; and allow you to positively check in for any distance events you may have entered.
After you check in, you can hit the deck, visit our sponsor booths, find the locker rooms and get ready to swim!
---
SWIMMER Magazine Paddle Testing
In the May-June issue of SWIMMER the Swim Bag department features our review of paddles. Our product testers had fun with this round of product testing. The paddles were carted around to several pools in a large laundry basket every day during the testing period. We split the paddles into two categories: Flat and Curved/Specialty. Testers tried the paddles for freestyle, backstroke, and breaststroke. Visit our YouTube channel to see them in action and hear their comments.
---
Breathing Easier
Joan Souchek can breathe again. Eleven years after being diagnosed with asthma and chronic obstructive pulmonary disease, the 82-year old says she surprised her doctor with a clean bill of health. "I went to get tested in February and the tech looked at me and said, 'who told you you had COPD?'" Souchek says. She says her doctor told her she had normal lungs.
Read more...
---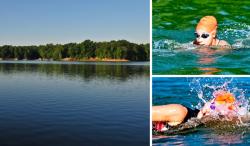 USMS 2010 One Mile Open Water National Championship
Let the USMS Open Water National Championship season begin!
On May 29th, beautiful Gar Creek at Latta Plantation will be the host of this year's USMS One Mile Open Water National Championship. Gar Creek is a cove nestled off magnificent Lake Norman, a 34-mile long lake with 520 miles of shoreline. The lake offers fairly smooth water and inviting conditions for first-timers intrigued with the idea of an open water swim.
Read more...
---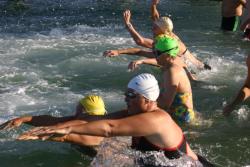 Unusual Open Water Swims
Looking for an out-of-the-ordinary swimming event this summer? The USMS Calendar of Events lists a number of open water swims with unusual features. For those new to open water swimming, you may want to try an event that allows a little extra insurance.
Events that allow swimmers to use gear include:
Read more...
---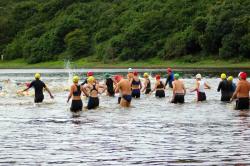 USMS 2010 Open Water and Long Distance Championships
This year's USMS Open Water and Long Distance National Championships hold the promise of an intense swimming season in a variety of natural settings. From California's wine country to the Rocky Mountains and even an historic cotton plantation, open water swimming promises the perfect blend of USMS competition with awesome vacation spots.
Read more...
---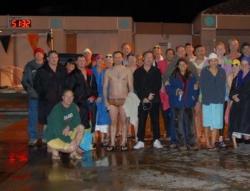 Stealth Relay Meet Stokes the Rose Bowl Masters
42 people, 42 relays, 42 world records.
On January 16, 2010, the Rose Bowl Masters of Pasadena, Calif., participated in an officially sanctioned practice made up of the newly FINA-recognized relay distances: 400 M/W/Mixed Free, 400 M/W/Mixed Medley and 800 M/W/Mixed Free, all LCM. The 42 swimmers established 42 new relay records. Now, their names will always be on the list of records because FINA keeps records in a progressive list, without overwriting.
Read more...
---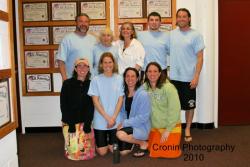 The Family Secret: An Endless Pool
The Cronins are a swimming family and at this year's New England Masters Championship at Harvard, three generations competed in the family team, Technique and Training, better known as TNT. The team fielded three-generation mixed relays and ended up taking first place in the small team division.
The team matriarch is 84-year-old Marilyn Cronin, joined by her daughter Carilyn Cronin-Donovan, her sons Carlton Cronin, Christopher Cronin and Chuck Cronin – Chuck serves as TNT's coach – and two grandchildren C.J Cronin and Nathan Cronin.
Read more...
---
Painting Inspiration From the Open Water
U.S. Masters Swimming member Craig Baskin is inspired. He's inspired when he swims in the open water, when he paints, and when he's busy with a fundraiser for one of the many charitable causes he believes in. "It all ties together in a circle," he says.
Baskin, 47, has always loved the open water. When he was a child and his family wintered in Florida, he was always the last one out of the water. "Swimming is a very personal thing," Baskin says. "The joy for me is getting in the water and swimming for miles, having that experience."
Read more...
---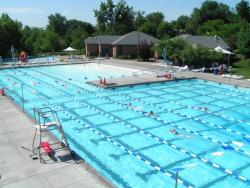 Unusual Relay Meet Makes for Record Opportunities
On Saturday, March 6, 2010, a team with the MOVY Masters Swim Club broke the national record in the 400 LCM Mixed Free with a time of 4:01.36. The swimmers were Christie Fuchs, 24; Tony Diers, 29; Joy Stover, 34 and Tony Stewart, 36. The old record, 4:01.94, was set in July 1991 by Southern California Aquatics Masters.
"With the large number of relay records broken at Indianapolis at USMS LCM Nationals, I was surprised to see a 1991 record still on the USMS books," says Bill Sherman, Records and Top 10 Chair for MOVY. Only six relay USMS records remain standing from the 1990s, the oldest is 04-14-1991 for SCY W25+ 800 Free relay.
Read more...
---