Features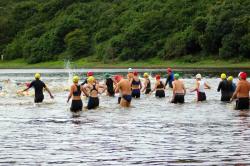 USMS 2010 Open Water and Long Distance Championships
This year's USMS Open Water and Long Distance National Championships hold the promise of an intense swimming season in a variety of natural settings. From California's wine country to the Rocky Mountains and even an historic cotton plantation, open water swimming promises the perfect blend of USMS competition with awesome vacation spots. Beginning in May with the 5K and 10K National Championships, which run through September, and the One Mile Open Water National Championships in Charlotte, N.C., summer leads off with two open water championships a month. In June, the 1-3 Mile Open Water National Championships in Livermore, Calif., and 3-6 Mile Open Water National Championships in Windsor, Colo., will take place. July brings the Two Mile Cable National Championships in Charlottesville, Va., and the 6+ Mile Open Water National Championships in Noblesville, Ind. After a break in August, the season winds down in Sept. with the 3000/6000 Yard National Championships, which run through mid-November.
The objective of the 5K and 10K Championships is to swim 5K (5000 meters) and/or 10K (10,000 meters) in its entirety in any 50-meter pool between May 15 and September 15, 2010. Completed entries can be sent in electronically or by mail and must be received by September 25th. Swimmers will be able compare themselves to other swimmers doing the same event. Some people do the 5K and/or the 10K event for competition, while others do it for fitness; all who wish to participate are welcome.
The One Mile Open Water Championship will take place on beautiful Gar Creek at Latta Plantation Nature Preserve, outside Charlotte, N.C. on May 29th. Gar Creek includes a significant 36-acre restored Piedmont Prairie, which has a native population of endangered Schweinitz sunflowers. The preserve is also home to historic Latta Plantation, an 1800s cotton plantation and living history farm, and the Carolina Raptor Center, a birds of prey conservation center. Wetsuits may be worn, but wetsuit swimmers will be in a separate wave and their times will be posted in the wetsuit category and are not eligible for scoring in the USMS National Championship or for awards or record consideration.
The 1-3 Mile Open Water Championships, hosted by the Tri-Valley Masters, is on June 6th. The event will be held at Lake Del Valle, a large manmade lake surrounded by rolling green hills, 10 miles from Livermore, Calif. This picture perfect area is dotted with boutique wineries, championship golf courses and historic downtowns. Wetsuits may be worn, but will be seeded in a separate wave.
The 3-6 Mile Open Water Championship in Lake Water Valley, Windsor, Colo., is a place where the open sky of Colorado's eastern prairie meets the towering peaks of the Rocky Mountains. Windsor is a small town with a quaint Main Street and is less than a fifteen-minute drive from Ft. Collins. Estes Park and the Rocky Mountain National Park are close by. The event will be held at Lake Water Valley and swimmers will be able to see the Rocky Mountains in the distance. Wetsuits are not allowed at this event.
The Two Mile Cable Swim at Chris Greene Lake in Charlottesville, Va., is being hosted by Virginia Masters. Chris Greene Lake is a beautiful park with 120 land acres and 62 water acres and has served as the venue for 2-mile cable swims since 1977. This year's event is dual-sanctioned with USA Swimming and a race for swimmers age 7 and up will take place on the same day. While in Charlottesville, visitors can go to Monticello, the home of Thomas Jefferson, or visit one of the many wineries in the area. No wetsuits will be allowed.
For the 6+ Mile Open Water Championships in Noblesville, Ind., held on Saturday July 17th, swimmers will take the plunge at the South Harbor Clubhouse & Beach and swim 6.2 miles in the Morse Reservoir. Noblesville has a historic courthouse and quaint brick-lined streets in the business district, all of which are on the National Register of Historic Places. One can also go to Forest Park and visit the Train Museum, the 1871 Covered Bridge, a Carousel and the Forest Park Aquatic Center.
The 3000/6000 Yard Championships runs from September 15th through November 15th, and like the 5K-10K Championship, it's a great way to swim independently yet be able to compare times with other swimmers once the results are posted. In this event the objective is to swim 3000 or 6000 yards in any 25-yard pool.