Features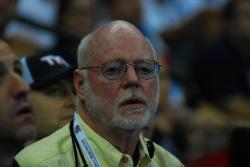 More Than a Coach
Ansie Schnorr Monaghan of Princeton Area Masters remembers Coach Shoulberg's practices well. The famous Germantown Academy coach "was not easy," she remembers, but he had a way of coaching "each swimmer as an individual, not just a swimmer."
This year marks Coach Dick Shoulberg's 40th year in the sport of swimming, and to celebrate his commitment to his athletes and to the sport we all love, many of Coach Shouldberg's athletes are meeting in Warminster, Pa., for a "team" social.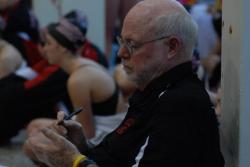 Coach Shoulberg was a machinist by trade, but quickly became known for his innovative coaching techniques. "I remember being pushed like no one else from other teams had ever been pushed. We did a lot of yardage and dryland techniques that were by no means common practice," shared Ansie. "Coach Shoulberg had us use a swim bench. It was the only one of its kind that I had seen during that time. Now they are common and on every pool deck across the country."
Coach Shoulberg's innovative character didn't stop with his elite swimmers, though he had coached a fair share of Olympic Trials qualifiers and Olympic team members. Coach Shoulberg began coaching Germantown Academy in 1969 and has since coached such swimmers as David Wharton, Sean Killon, Erika Hansen, Maddy Crippen and Fran Crippen. But the elite are not the only swimmers that get the attention of Coach Shoulberg. He has always coached and still coaches beginner swimmers and travels around the world hosting and coaching clinics for everyone from learn-to-swim athletes to record-breaking champions and everyone in between. "He doesn't just coach swimming. He teaches life lessons and discipline that I have used throughout my life," explained Ansie.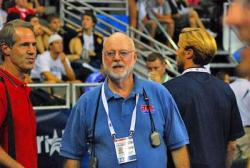 Many Masters swimmers are products of Germantown Academy and Coach Shoulberg. Ansie still runs into many former teammates at local and regional Masters competitions. "There is a certain bond between those of us that have swam with Coach Shoulberg," she said. Coach Shoulberg, well-known for his high-yardage methods, may not be for everyone; "If you couldn't hang, then it was not the program for you. But, if you believed in his training methods then you were loyal for life," Ansie recalled. Ansie and other former and current Germantown Academy swimmers also attribute their loyalty and respect for their coach to his "purity and honesty. Once you reach a certain level in your athletic career, you notice that these things are hard to find. He always had the utmost integrity."
Coach Shoulberg has been a key player in the swimming community for the last 40 years; however, he is not finished yet. He still coaches the Germantown Academy and is still traveling to coach and speak to swimming programs around the world.
The celebration honoring Coach Shoulberg and his many accomplishments will be held May 30, 2009, from 1 p.m. until 8 p.m. at the Mermaid Swim Club in Warminster, Pa. Coach Shoulberg coached the Mermaid Swim Club in the 60s and "it is really special to see this come full circle," said Ansie. To join in on the celebration, contact Marie Labosky at mlabosky@alumni.nd.edu.
Some of us can remember the names of old coaches that were sprinkled throughout our athletic histories; however, all of us can remember the words of great coaches that came few and far between. "So many of us saw [Coach Shoulberg] as more than a coach. He was a mentor," said Ansie.
Who was your favorite coach? Why was that coach so impactful? Have you been lucky enough to find a mentor in a coach? Tell us about your experience with great coaches. Write to us at press@usms.org and maybe your story will be told, too!