Features
2012 Marriott USMS Summer Nationals
Be sure to follow Summer Nationals via our livestreaming video and check back on the front page here for daily video recaps or check out the video gallery. Most information about the meet can be found on the Summer Nationals page. We'll also keep you updated on our Facebook page and on Twitter @mastersswimming.
---
Day 3 in Omaha
Our Day 3 recap of the 2012 Marriott USMS Summer Nationals finds Rob Butcher and Misty Hyman getting into the action with some fast swimming of their own. We asked Jeff Commings, Brian Jacobson and Steve West what it's like to compete in Summer Nationals right after swimming in the Olympic Trials. Misty roams the deck and talks to participants about when they started swimming. Tim Waud talks about what it means to compete in USMS nationals every year. Misty meets a fellow Olympian Colette Crabbe, who competed for Belgium in 1976. Ellen Reynolds has been blazing up and down the pool for the past few years and ties her own world record in the 50 backstroke. We meet Tony Rezek, who is especially happy to be swimming in the CenturyLink Center Omaha, as he was involved in its construction.
---
Day 4 in Omaha
Rob Butcher and Misty Hyman recap the final day of the 2012 Marriott USMS Summer Nationals. Misty finds out what swimmers do in their day jobs and what creative excuses they give their bosses when they go to swim meets. Cheryl Kupan from Maine Masters talks about why she travels to all the nationals meets. Anneliesse Bruns is swimming fast while nearly five months pregnant. Tim Shead shares key points to staying active and swimming fast as you age. Announcer Karl Schaphorst tells us how he got into announcing at swim meets. Misty catches up with Kevin Doak, who had some great swims here in Omaha in both the Olympic Trials and Summer Nationals. Dianna Carda shares what she hopes to give and to gain by competing in Masters meets.
---
Day 2 in Omaha
Rob Butcher and Misty Hyman recap Day 2 at the Marriott USMS 2012 Summer Nationals, taking place on the heels of the US Olympic Trials in Omaha, Neb. Misty talks with three Masters coaches who had swimmers at the Trials: Laureen Welting of The Olympic Club, Michael Collins of Novaquatics Masters, and Chad Durieux of Rose Bowl Masters. Misty asks swimmers in the warm-up pool what their idea of a perfect meet warm-up is. Judy Bendorf, swam in the Olympic Trials in 1956 and talks about some of the differences between then and now. Misty runs into LA actor, writer and singer, Mary Young, who manages to belt out a tune immediately following the 100 fly. Later, we mic up Coach Durieux as he takes Dan Stephenson, through pre- and post-race 100 breaststroke strategy.
---
Summer Nationals Preview
Join Olympic Gold Medalists Misty Hyman and Rowdy Gaines for a sneak preview of the fastest pool in the world as we ramp up for the 2012 Marriott USMS Summer Nationals in Omaha, Neb., site of the USA Swimming Olympic Trials. We check in with Kevin McGrath, president and CEO of Myrtha Pools, Tom Boak, meet director, USMS president, Nadine Day, and Erin Sullivan, chair of the Nebraska LMSC.
---
Day 1 in Omaha
Rob Butcher and Misty Hyman visit some USMS partners here at the 2012 Marriott USMS Summer Nationals, including Keith Haden with All American Swim Supply, Colleen Healy with blueseventy, Patti Kast with Kastaway Swimwear and Amanda French at Kiefer. Misty also talks with Ryan Dieker with Garmin and gets a chance to try out the Garmin Swim, a new swim training device, in the warm-up pool. Misty catches up with her Olympic teammate from the 2000 Games in Syndey, three-time gold medalist Brooke Bennett, who joined the Masters family last year after some time away from the sport. Filmmaker Deborah McDonald is interviewed about her award-winning documentary, The 50-Year Old Freshman, about Masters legend Suzanne Heim-Bowen.
---
USMS Members Represent at Trials
Several dozen U.S. Masters Swimming members swam in the Olympic Trials in Omaha, Neb. June 25–July 2. Top athletes, coaches and swimming experts consider the USA Swimming Trials, the fastest swim meet in the world, to be the most stressful meet in a swimmer's career—much more so than the Olympics themselves.
USMS is proud to count some of the top swimmers in the world amongst its members. The majority of our members will never experience what Cullen Jones, Anthony Ervin, Madison Kennedy, and other elites experience at Olympic Trials as they vie for spots on Team USA, but we mere mortals love to watch them and it's always exciting when they drop in on the occasional Masters swim meet.
Read more...
---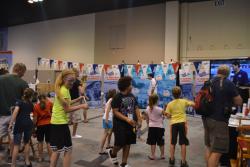 USMS in the Aqua Zone at Olympic Trials
USMS is making an impression in the Aqua Zone, the exhibit hall at Olympic Trials. Supporters of swimming and the Trials seek to educate and entertain with their exhibits. At the Colorado Time System's exhibit, you can test your reaction time off the blocks. At the Universal Sports exhibit, you can "swim" against a competitor using motion capture technology. You can ride a bucking shark, win a loaf of bread, and swim in a Masters Spa Michael Phelps signature swim spa.
But families seeking fun are hanging out at the U.S. Masters Swimming exhibit, where we've recreated a game that swimmers have been playing for years: the goggle toss. Anyone who swam age group will remember trying to snag their goggles on the backstroke flags, the reward for which was getting out of practice early on a Friday afternoon after a hard week of training. Stay tuned for some results of our USMS members who are competing in the Trials.
---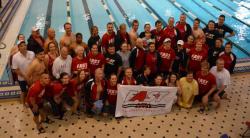 Everyone Swims in Michigan
Well, maybe not everyone, but Michigan Masters swimmers show up and swim in record numbers. How is the Michigan LMSC so successful at encouraging 50% of its members to come to its state championship meet? It's a variation on "if you build it, they will come."
First, USMS Membership director Anna Lea Matysek puts Michigan's 50% participation rate into perspective: "In 2011, 16,191 of all USMS members (56,158) participated in a pool meet sometime during the 2011 year. That's 29% of our membership. The MI-LMSC's state meet blows that figure away with nearly 50% of the LMSC in attendance."
Read more...
---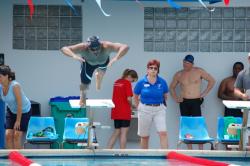 Way Above Average
Jamie Miller, 57 and a member of North Carolina Masters, says he is playing catch-up. After learning a little about him, though, you might think that he has already caught up and moved on into the stratosphere. USMS doesn't know what an average number of swims is for an average Masters swimmer. There are too many variables, and it isn't right to reduce the diversity of USMS to a single number. Many of our members enjoy pool racing, but they also enjoy open water swimming and swimming purely for fun and fitness. That said, we're guessing Miller's accumulation of nearly 300 swims in less than four years is way above average.
Read more...
---