U.S. Masters Swimming Articles & Videos
Presented by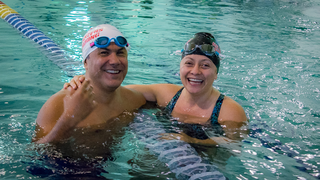 Adult Learn-to-Swim
Steve Woolson was one of 29 people who signed up for adult learn-to-swim classes offered in April at a YMCA in Sarasota, Fla. Members of the Sarasota YMCA Sharks Masters club volunteered their time to teach the twice-a-week lessons.
Adult Learn-to-Swim
Aaron Taylor struggled to find students for adult learn-to-swim classes at his Sarasota, Fla., YMCA branch for the first three months of the year. The U.S. Masters Swimming ALTS initiative fixed the aquatics director's problem in April.
Adult Learn-to-Swim
Sarasota (Fla.) Y Sharks Swimmer Bill Ewell completed the U.S. Masters Swimming's adult learn-to-swim instructor certification course in 2016 and has taught ALTS lessons since April at a YMCA.
Adult Learn-to-Swim / Human Interest
With three children and three grandchildren who are or were competitive swimmers, my father, 74, has spent a good part of the past 40 years going to swim lessons, practices, meets, and water polo matches. But, by his own description, he floats "like a dead body."
Adult Learn-to-Swim / Human Interest
On the morning of our last lesson, it was dark when we met. This was the earliest I've seen Mari at the pool, and she was ready to go. It turned out to be a perfect morning to review what she'd already learned and to have a successful breakthrough on a key survival skill.
Adult Learn-to-Swim / Human Interest
I consider myself a free spirit. I love exploration, freedom, and change. I've never liked feeling restrained, and not knowing how to swim was keeping me caged. I wanted to just jump in the water without my fears tying me down. So several months ago, I decided to reach my lifelong dream of learning to swim.
Adult Learn-to-Swim / Human Interest
In this second installment of Mari Soliman's Adult Learn-to-Swim Story, USMS catches up with USMS-certified ALTS instructor Megan Lassen to talk about how her swimming lessons with her student, Mari, are progressing.

The USMS website contains articles about sports medicine, health, and nutrition. This information is not intended to be a substitute for professional or medical advice on personal health matters. For personal medical advice, or if you are concerned about a medical condition or injury, see your healthcare provider for evaluation and care. The USMS website also contains articles about swim training and technique, including drills and workouts. All swimmers should be evaluated by a healthcare professional prior to beginning swim training. In addition, consult with a trained coach when introducing new technique or drills to your swim training program.