U.S. Masters Swimming Articles & Videos
Presented by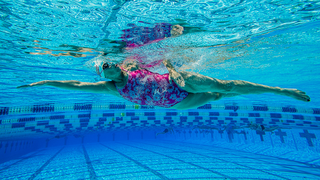 Stroke Technique
Push and pull: You need both. Think about it: When you swim, the most power comes from your hands when they're below your shoulders. The problem is, in most of the strokes, your hands are out in front or above your head for a significant portion of each swim.  
Stroke Technique
Although they're fluffy and delicious at breakfast, waffles don't belong in your swimming Waffling in swimming is when your hands waver (or waffle) back and forth or there's rapid pitch change and water slips off the hand. It's both a strength issue AND a drag issue.
Stroke Technique
The lateral upper-body line is an imaginary line running from elbow to elbow through the collarbones or clavicles when the arms are extended straight out to the sides. If it helps, think of making a...
Stroke Technique
In high school, I ran track and field, and my coach once told my team that in running, there were three H's to remember: hips, hands, and knees (insert chuckle). However, in swimming backstroke, there really are three H's to remember.
Drills / Stroke Technique
There are three drills I recommend for freestyle and backstroke that promote learning and controlling hip action. These drills build upon each other for both strokes and work best if done in the...
Coaching / Drills / Stroke Technique
Backstroke is a mystery to so many swimmers, even ones who swim it well. But you can take away all the pain, confusion, and discomfort with one simple sentence. Backstroke, just like the other three strokes, requires breathing in the rhythm of the head in and out of the water.
Drills / Stroke Technique
As a child, long before Sesame Street was on TV, I watched an educational show called Romper Room. Frequently, a large bumblebee character called Mr. Do-Bee presented good and inappropriate behaviors...

The USMS website contains articles about sports medicine, health, and nutrition. This information is not intended to be a substitute for professional or medical advice on personal health matters. For personal medical advice, or if you are concerned about a medical condition or injury, see your healthcare provider for evaluation and care. The USMS website also contains articles about swim training and technique, including drills and workouts. All swimmers should be evaluated by a healthcare professional prior to beginning swim training. In addition, consult with a trained coach when introducing new technique or drills to your swim training program.