U.S. Masters Swimming Articles & Videos
Presented by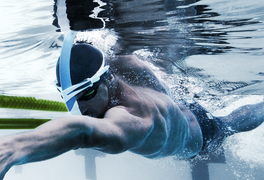 Advertorial
Training tools give you the ability to focus on the fine points and specific skills and techniques that will make you a stronger, faster swimmer. Over the past few years, snorkels have become a key...
Whats New?
This week Executive Director Rob Butcher shared with the Board of Directors and National Office staff that he will be stepping down December 31, 2015. On January 1, 2016, Rob will become the...
Training
After winning four gold medals and setting four world records in the 1976 Olympics, champion backstroker John Naber revealed that before that season started, he had calculated the time he was...
Drylands / Fitness
As a Masters swimmer you probably have goals that include living a high-quality, healthy life, as well as improving your performance in the pool. I've written previously about how strength gains...
Drylands / Fitness
To properly perform a push-up, you must keep complete tension throughout your body. There aren't many exercises that require this tension. This type of movement isn't just about developing the...

The USMS website contains articles about sports medicine, health, and nutrition. This information is not intended to be a substitute for professional or medical advice on personal health matters. For personal medical advice, or if you are concerned about a medical condition or injury, see your healthcare provider for evaluation and care. The USMS website also contains articles about swim training and technique, including drills and workouts. All swimmers should be evaluated by a healthcare professional prior to beginning swim training. In addition, consult with a trained coach when introducing new technique or drills to your swim training program.