U.S. Masters Swimming Articles & Videos
Presented by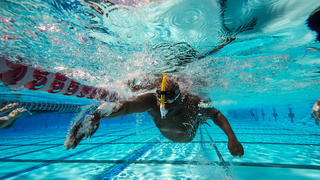 Adult Learn-to-Swim
I'm doing it. I. Am. Swimming!
Whats New?
The preliminary Top 10 listing is for proofreading purposes only. Report any errors to the National Swims Administrator by Sunday, February 28th. See the Booklet or the USMS Top 10 Search Page to view the listing.
Press Releases
After more than a decade of support, Endless Pools®, the leading manufacturer of swim-in-place technology, has renewed its commitment to U.S. Masters Swimming with a multi-year agreement aimed at advancing the shared goals of the two organizations.
Drylands / Sports Medicine / Training
Many swimmers have missed time in the water due to some type of shoulder injury, whether minor or severe. Some shoulders are too tight and others aren't strong or stable enough. Swimmers need shoulders that have:
Coaching / Training
This time of year, many of us reflect back on the past year and think about what we'd like to do in the year ahead of us. Sometimes we start off with by making a New Year's resolution. We've...
Press Releases
ROKA Sports, Inc., a premium multisport brand has announced a multi-year official partner agreement with U.S. Masters Swimming, the national governing body for adult swimming in the United States.
Whats New?
Because of the extreme weather conditions experienced during the month of January throughout the country, the USMS Long Distance Committee has extended the date by which all swims must be completed...

The USMS website contains articles about sports medicine, health, and nutrition. This information is not intended to be a substitute for professional or medical advice on personal health matters. For personal medical advice, or if you are concerned about a medical condition or injury, see your healthcare provider for evaluation and care. The USMS website also contains articles about swim training and technique, including drills and workouts. All swimmers should be evaluated by a healthcare professional prior to beginning swim training. In addition, consult with a trained coach when introducing new technique or drills to your swim training program.