U.S. Masters Swimming Articles & Videos
Presented by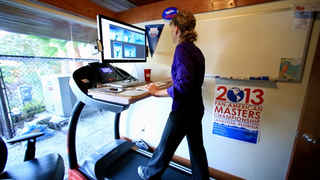 USMS Promotional
U.S. Masters Swimming promotes not only health and fitness in the swimming pool, but also in the office. Everyone is encouraged to enjoy the benefits of a stand-up desk or treadmill on which to work.
Press Releases
Malibu C, a Salon/Spa hair, scalp and skin wellness beauty collection, is partnering with U.S. Masters Swimming, the national governing body for adult swimming. The multi-year agreement provides Malibu C marketing, licensing, and promotional rights in the personal care products category.
Coaching / Drills
Playing water polo can help swimmers increase their speed and endurance. Many of the sets and exercises water polo coaches give their players can also help swimmers with their technique. And who knows, you may even find your swimmers and yourself having fun trying a water polo workout! 
Coaching
There's a lot to love about swimming: competition, camaraderie, and the feeling of being well and healthy. For us coaches, one of the more interesting things we deal with regularly is how we...
Human Interest
Spending time in the pool together makes working out a more communal experience for many swimmers. Teammates connect by sharing the same joys and frustrations that many biological families...
USMS Promotional
The Swimming Saves Lives Foundation, the charitable arm of U.S. Masters Swimming, has declared the month of April, "Adult Learn-to-Swim Month." During April, most pools, lakes, and beaches are...

The USMS website contains articles about sports medicine, health, and nutrition. This information is not intended to be a substitute for professional or medical advice on personal health matters. For personal medical advice, or if you are concerned about a medical condition or injury, see your healthcare provider for evaluation and care. The USMS website also contains articles about swim training and technique, including drills and workouts. All swimmers should be evaluated by a healthcare professional prior to beginning swim training. In addition, consult with a trained coach when introducing new technique or drills to your swim training program.