U.S. Masters Swimming Articles & Videos
Presented by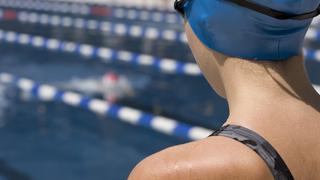 Training
No two swim workouts are exactly the same, but any workout should include a warm-up period at the start of practice. As a younger swimmer, you could jump in, race a buddy down the pool and be ready...
Press Releases
P2Life has signed on as a multiyear partner and sponsor of U.S. Masters Swimming, the national governing body for adult swimming in the United States. USMS clubs and Masters coaches will be able to raise money for their clubs by purchasing P2Life's products through customized web portals.
Coaching / Training
How we view things, including ourselves, is the critical factor in every challenge we face: in swimming, school, work, home, everywhere. A positive attitude makes success possible, while a negative...
Events / Open Water / USMS Promotional
The USMS Board of Directors appointed an Open Water Sanction Task Force to recommend new guidelines for sanctioning open water events. The task force, which consisted of staff, volunteer leaders, and...
Biography / Human Interest
Six years ago, a happy but exhausted Inge Clark had a toddler and three infants on her hands. "Four kids does a number on your body," explains Clark, making what might be the understatement of...

The USMS website contains articles about sports medicine, health, and nutrition. This information is not intended to be a substitute for professional or medical advice on personal health matters. For personal medical advice, or if you are concerned about a medical condition or injury, see your healthcare provider for evaluation and care. The USMS website also contains articles about swim training and technique, including drills and workouts. All swimmers should be evaluated by a healthcare professional prior to beginning swim training. In addition, consult with a trained coach when introducing new technique or drills to your swim training program.