U.S. Masters Swimming Articles & Videos
Presented by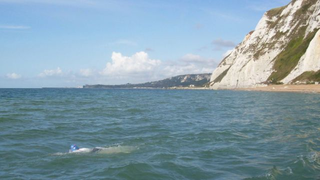 Open Water
The standard rules of marathon swimming state that any swim longer than 10 kilometers (6.2 miles) can be considered a marathon swim. The rules also state that marathon swims are accomplished...
Open Water
The long-held belief that it's unsafe for anyone to swim within 30 minutes of eating is just plain incorrect. Marathon swimmers eat while treading water, gulping their food down and heading off...
USMS Promotional
Every morning, Laura Hamel walks in to her office puts on her sneakers, plugs in her computer and takes the first step of many on her office treadmill. The routine has become second nature to Hamel...
Health and Nutrition
Below is a list of some of the more common ingredients you may encounter when reading sports nutrition product labels. See the main article, "Read Those Labels" published in the July/August 2014...
Open Water
If you're already a pool swimmer, you probably have most of the gear you need to get going in open water. But just as there are unwritten rules governing what constitutes the best gear to use in...
Drylands / Training
You may do stretches from time to time and get into a certain position and realize, "Wow I'm pretty tight." This probably isn't a new phenomenon for many of you, but have you ever stopped to think why you're "tight" and if it's really a bad thing?

The USMS website contains articles about sports medicine, health, and nutrition. This information is not intended to be a substitute for professional or medical advice on personal health matters. For personal medical advice, or if you are concerned about a medical condition or injury, see your healthcare provider for evaluation and care. The USMS website also contains articles about swim training and technique, including drills and workouts. All swimmers should be evaluated by a healthcare professional prior to beginning swim training. In addition, consult with a trained coach when introducing new technique or drills to your swim training program.