U.S. Masters Swimming Articles & Videos
Presented by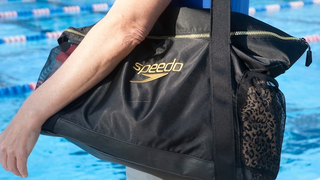 Human Interest
Swimmers, like many athletes, can be extremely focused and driven. Some are kinetic while others are relaxed. They work in a variety of professions. Some swim for fitness and some for social reasons...
Coaching
While at dinner with some coaches a few months back, the subject of water time and pool space came up. Several coaches lamented the fact that they want to grow but can't, because of the...
Coaching / Drills / Open Water / Stroke Technique / Triathlon
You've probably witnessed or heard of one of your swimmers having something chaotic happen in a swim event. Here are three common occurrences and three practice activities that can provide the knowledge swimmers need to handle these difficult situations with confidence.
Press Releases
U.S. Masters Swimming has concluded its annual meeting during the United States Aquatic Sports Convention. In addition to committee meetings and rules and legislation reviews, USMS held officer elections and honored many of its deserving volunteers with service awards.
USMS Promotional
Narrated by U.S. Masters Swimming and Olympic gold medalist Rowdy Gaines, this inspiring video captures the essence of what Masters Swimming is all about.
Stroke Technique
U.S. Masters Coach Stu Kahn talks about common mistakes that vex freestylers during the breathing portion of the stroke. Whether you're just learning to swim, or are already a seasoned pro, these tips will have you breathing easier in no time.
Press Releases
Nationwide Insurance has signed on as the official life and auto insurance sponsor of U.S. Masters Swimming, the national governing body for adult swimming in the United States. As part of the agreement, Nationwide will become title sponsor of the Nationwide USMS Spring National Championship, through 2018.

The USMS website contains articles about sports medicine, health, and nutrition. This information is not intended to be a substitute for professional or medical advice on personal health matters. For personal medical advice, or if you are concerned about a medical condition or injury, see your healthcare provider for evaluation and care. The USMS website also contains articles about swim training and technique, including drills and workouts. All swimmers should be evaluated by a healthcare professional prior to beginning swim training. In addition, consult with a trained coach when introducing new technique or drills to your swim training program.