U.S. Masters Swimming Articles & Videos
Presented by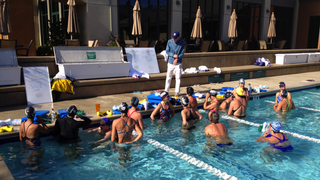 Coaching
Q: What community partnerships should my program be pursuing? A: There are three important categories of partnerships your program should actively pursue: community service, program growth, and financial benefit.
Human Interest
The ping of the alarm rather than the pitter-patter of little feet or a babe's cry jolts me out of a deep sleep. Drowsy, I turn off the alarm and glance at the clock: 5:25 a.m. I drag myself from...
Whats New?
Entry information for the 3000 Yard and 6000 Yard Postal Championships is now available. Individual and relay entry forms are posted. Online entries open on Sept 15.
Advertorial / Stroke Technique / Training
As a swimmer with 10 years of experience on the USA Swimming National Team, I think one of the toughest things about the sport is maintaining proper technique. Whether you are a veteran of the pool...
Health and Nutrition / Sports Medicine
Energy drinks are beverages that are marketed to provide mental or physical energy or stimulation. There are dozens of these products available, including such recognizable names as Red Bull, 5-hour...

The USMS website contains articles about sports medicine, health, and nutrition. This information is not intended to be a substitute for professional or medical advice on personal health matters. For personal medical advice, or if you are concerned about a medical condition or injury, see your healthcare provider for evaluation and care. The USMS website also contains articles about swim training and technique, including drills and workouts. All swimmers should be evaluated by a healthcare professional prior to beginning swim training. In addition, consult with a trained coach when introducing new technique or drills to your swim training program.