U.S. Masters Swimming Articles & Videos
Presented by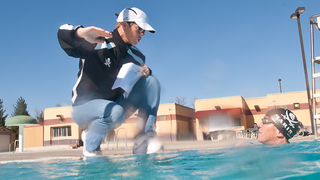 Coaches Only
Here are some reasons to consider joining us in this wonderful profession.
Technique and Training
Stop wasting your warm-up.
Whats New?
Listings of Long Distance All-Americans and All-Stars are now available.
Technique and Training
How can you tell if you're slipping? Slow down and pay attention.
Events
Stephanie Gibson was one of nearly 1,300 U.S. Masters Swimming members who participated in the SmartyPants Vitamins USMS Winter Fitness Challenge between Feb. 15-28. The event was the first of...
Technique and Training / Triathlon
Here are some fun, pressure-free suggestions for maintaining (or improving) your swim skills during your workout hiatus.

The USMS website contains articles about sports medicine, health, and nutrition. This information is not intended to be a substitute for professional or medical advice on personal health matters. For personal medical advice, or if you are concerned about a medical condition or injury, see your healthcare provider for evaluation and care. The USMS website also contains articles about swim training and technique, including drills and workouts. All swimmers should be evaluated by a healthcare professional prior to beginning swim training. In addition, consult with a trained coach when introducing new technique or drills to your swim training program.