U.S. Masters Swimming Articles & Videos
Presented by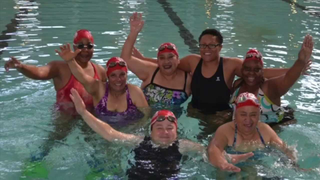 USMS Clubs
Coach Benicia Rivera of the Richmond Plunge Masters received a Swimming Saves Lives Foundation Grant in 2014. What she did with it will warm your heart. She sent us this video as a thank-you for the grant. Thank YOU, Coach Rivera, for all you've done here.
Training
Now that long course season has ended, some swimmers will take a break from the pool. For some, this signals a chance to reset and take a mental break while others simply want to give their bodies...
Advertorial / Health and Nutrition
Sleep is the most critical time of every 24-hour day. While the body is at rest, it's best prepared to focus solely on growth, recovery, repair, and rejuvenation. Depending on when you eat, when...
Training
As a Masters athlete, your time is a valuable commodity. Whether you're trying to fit your swimming workouts in between your work, family, or even just golf outings—chances are slim that you have...
Drills / Stroke Technique
There are three drills I recommend for freestyle and backstroke that promote learning and controlling hip action. These drills build upon each other for both strokes and work best if done in the...

The USMS website contains articles about sports medicine, health, and nutrition. This information is not intended to be a substitute for professional or medical advice on personal health matters. For personal medical advice, or if you are concerned about a medical condition or injury, see your healthcare provider for evaluation and care. The USMS website also contains articles about swim training and technique, including drills and workouts. All swimmers should be evaluated by a healthcare professional prior to beginning swim training. In addition, consult with a trained coach when introducing new technique or drills to your swim training program.