U.S. Masters Swimming Articles & Videos
Presented by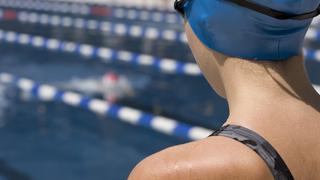 Health and Nutrition
Summer is approaching, and that means more outdoor competitions and swimming practices. Yes, making that interval or winning that race is important, but so is protecting your skin from the sun while on the deck and in the pool. 
Adult Learn-to-Swim / Human Interest
In the summer of 1977, my half-brother Henry was living in Bloomington, Ind., having moved there a couple years earlier after his parents' divorce and our father's marriage to my mother. I was...
Biography
Suits. Business requires we dress for success, right? Perhaps the person who created the expression Think Tank was a swimmer. 
Stroke Technique
A champion swimmer moving through the water is a thing of beauty. We notice the grace, power, and fluidity of motion and marvel at the talent on display. But in addition to being thrilled by the...
Adult Learn-to-Swim / Human Interest / Open Water
What's a weekend worth in the quest to make sure every adult in the United States is water-safe? That's the question two teams recently asked themselves in setting out to swim for change. And...

The USMS website contains articles about sports medicine, health, and nutrition. This information is not intended to be a substitute for professional or medical advice on personal health matters. For personal medical advice, or if you are concerned about a medical condition or injury, see your healthcare provider for evaluation and care. The USMS website also contains articles about swim training and technique, including drills and workouts. All swimmers should be evaluated by a healthcare professional prior to beginning swim training. In addition, consult with a trained coach when introducing new technique or drills to your swim training program.