U.S. Masters Swimming Articles & Videos
Presented by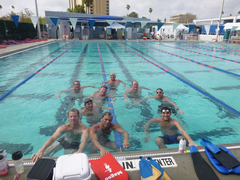 Biography
Charles Dean, 46, lives in St. Petersburg, Fla., close to the beach and the pool. This married father of three grown sons and three grandsons says he feels like a 30-year-old most of the time, but by the end of a main swim set, he feels his true age. All 46 years of it. That's because he swims a lot.
Drills / Stroke Technique / Training
Coaches often talk about the recovery, the catch, the rotation of the body, and a lot of other things that contribute to fast freestyle. Granted, there are a lot of things that are matters of style,...
Human Interest
Last summer I covered recreational swim championships for the sports section of a local newspaper. Although I'm a Masters swimmer now, I was never a swimmer growing up. The fanfare, the crowds, the...
Biography
Jack Bevier was born in Buffalo, N.Y., in 1932, but he grew up in New York, Indiana, Ohio, and Tennessee. By the time he turned 19 and joined the service, he had had 25 legal addresses. But through all those residence changes, the constant was swimming.
Biography
Larry Krauser says he learned to swim when his mother threw him in their backyard pool in South Florida at age 2. His earliest memory of swimming competition is from age 5, when he was so far out in...
Training
Have you ever stopped to think about when improvement occurs in your training cycle? You may have never thought about this, but you should. Is it right after a hard workout? Is it 12 or 24 hours...
Coaching / Training
When I was a kid, I was part of a group of swimmers who were poor kickers. (OK, we were terrible, actually.) Our speed came from muscling through sets using just our upper bodies. We avoided kick...

The USMS website contains articles about sports medicine, health, and nutrition. This information is not intended to be a substitute for professional or medical advice on personal health matters. For personal medical advice, or if you are concerned about a medical condition or injury, see your healthcare provider for evaluation and care. The USMS website also contains articles about swim training and technique, including drills and workouts. All swimmers should be evaluated by a healthcare professional prior to beginning swim training. In addition, consult with a trained coach when introducing new technique or drills to your swim training program.