U.S. Masters Swimming Articles & Videos
Presented by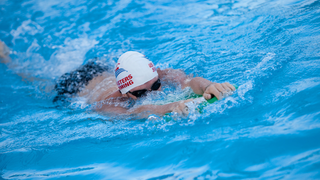 Coaching / Drills / Stroke Technique / Triathlon
Recently, a coach told me about watching his novice swimmers flutter kick. Despite a lot of effort, they weren't going anywhere. The coach had tried wall kicks and a few other techniques to improve...
Fitness / Training
Unlike many other sports, swimming requires participants to operate in an usual environment. Free from worries of sweating or gravity, swimmers can enjoy swimming at some level throughout their entire life. Not many other sports can offer that sort of longevity to its athletes.
Biography
Roberta Green, a 58-year-old attorney who grew up swimming on a local team in Colorado, now lives in Vienna, W.Va. She swims primarily at the YMCA in Parkersburg, with an occasional excursion to the Y in Marietta and the Aquatics Center at Ohio University in Athens, Ohio.
Advertorial
If you get a speeding ticket on your way to swim practice, can your insurance rates go up? Will buying a spiffy new red SUV to lug your tri-bike around increase your insurance costs? With all the...
Training
You listened to your coach. You did the yards. You did the dryland training, and you followed the proper nutrition plan. You made it through the taper. What happened on race day? Not what you expected.
Stroke Technique
U.S. Masters Swimming Coach Cokie Lepinski walks us through backstroke starts: from positioning on the blocks all the way through entry into the water.

The USMS website contains articles about sports medicine, health, and nutrition. This information is not intended to be a substitute for professional or medical advice on personal health matters. For personal medical advice, or if you are concerned about a medical condition or injury, see your healthcare provider for evaluation and care. The USMS website also contains articles about swim training and technique, including drills and workouts. All swimmers should be evaluated by a healthcare professional prior to beginning swim training. In addition, consult with a trained coach when introducing new technique or drills to your swim training program.