U.S. Masters Swimming Articles & Videos
Presented by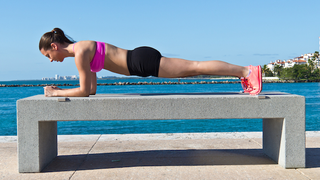 Drylands / Training
There are many ingredients for natural, strong swimming. One of the most important is good core strength and stability. Without a strong and engaged core, coordinating and supporting arm and leg...
Training / Triathlon
If you're an experienced, professional IRONMAN® competitor, you should spend around 15 to 20 percent of your training time in the water. There, that was easy, wasn't it? Well, yeah, for those...
Advertorial / Training
Although swimming is a low-impact workout, it can also provide high-resistance training when you use the right equipment. Incorporating swim fins into your training can help you increase stamina, build leg strength, and improve technique.
Training
Pull-ups are in the top three exercises that I recommend for swimmers. If you get better at pull-ups, you'll see a direct impact on your speed and endurance in the water because the pulling pattern in most strokes is closely related to the pull-up movement.
Drills / Open Water / Stroke Technique / Training
Everybody knows that rest and recovery are essential components of an effective training program. But have you ever thought about how to rest and recover during a workout, or even a race? You should—it will definitely help your training and race performance.
Training
Let's be honest: Masters Swimming is the best activity around. However, there are a lot of swimmers out there who don't take advantage of everything the sport has to offer. If you've never swum in a meet before, you're missing out on a huge part of the sport.
Health and Nutrition / Training
There are many different ways to be successful in your swim training, and what and when you eat contributes to that success. When it comes to maximizing the effectiveness of your nutrition, it's often a matter of timing.

The USMS website contains articles about sports medicine, health, and nutrition. This information is not intended to be a substitute for professional or medical advice on personal health matters. For personal medical advice, or if you are concerned about a medical condition or injury, see your healthcare provider for evaluation and care. The USMS website also contains articles about swim training and technique, including drills and workouts. All swimmers should be evaluated by a healthcare professional prior to beginning swim training. In addition, consult with a trained coach when introducing new technique or drills to your swim training program.