U.S. Masters Swimming Articles & Videos
Presented by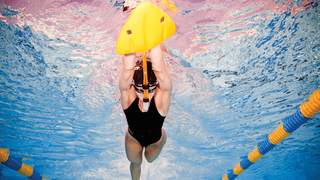 Advertorial
Finding the right balance in the water is one of the most important, yet underrated, aspects of swimming. Although we constantly focus on elements such as technique and strength, efficiency in the...
Advertorial
You probably know the name of your insurance company and the type of insurance you have, but how about what your policy covers? Here's a quick lesson, brought to you by Nationwide®.
Advertorial
Training tools give you the ability to focus on the fine points and specific skills and techniques that will make you a stronger, faster swimmer. Over the past few years, snorkels have become a key...
Advertorial / Health and Nutrition
For busy Masters swimmers who want to perform at their best, both in the water and out, two components of training are critically important: nutrition and sleep.
Advertorial
Because of the vast number of products now available, choosing the right personal care product can be a confusing process for swimmers. After all, nearly all of these personal care products claim to remove chlorine. 
Advertorial / Product Reviews
With the 2016 Rio Olympics just over a year away, swim brands have already started releasing their newest technical racing suits featuring the latest technology, construction, and performance materials.
Advertorial / Training
Although swimming is a low-impact workout, it can also provide high-resistance training when you use the right equipment. Incorporating swim fins into your training can help you increase stamina, build leg strength, and improve technique.

The USMS website contains articles about sports medicine, health, and nutrition. This information is not intended to be a substitute for professional or medical advice on personal health matters. For personal medical advice, or if you are concerned about a medical condition or injury, see your healthcare provider for evaluation and care. The USMS website also contains articles about swim training and technique, including drills and workouts. All swimmers should be evaluated by a healthcare professional prior to beginning swim training. In addition, consult with a trained coach when introducing new technique or drills to your swim training program.