U.S. Masters Swimming Articles & Videos
Presented by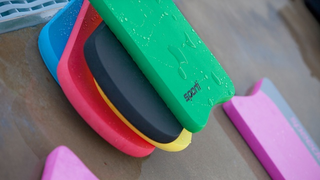 Advertorial / USMS Clubs / USMS Promotional
See how two USMS partners, Swimoutlet.com and P2Life, can help you raise money for your Masters program.
Advertorial
Masters swimmers have many more types of paddles available to them today, but with so many options, how do you know which type is best suited to your needs? Here's a listing of several different types of paddles and how they can improve your swimming.
Advertorial
The age-old adage "Use your head" has probably been drilled into us by our coaches throughout our swimming careers. Following the black line on the bottom of the pool for years at a time probably...
Advertorial / Training
Every Masters swimmer knows that there's no substitute for a good coach and a pool full of teammates to motivate you to get the most out of your workout. It's why you set your alarm clock, skip...
Advertorial / Health and Nutrition
Swimmers often employ a tremendous range of training techniques, a variety of equipment and training aids, and use high-quality fuels and supplements, all for the purpose of helping them get the most...
Advertorial / Coaching / Drills / Training
The alignment of a swimmer's body can influence performance in the water in a number of ways. Truly, it could be the single most important aspect of our sport. Whether you're just learning or are...
Advertorial / Coaching
Recently, in an online Masters swimming forum, the conversation spun to the topic of technical swimsuits. I read confusion in some of the posters' comments. "How do I pick just one suit among a...
The USMS website contains articles about sports medicine, health, and nutrition. This information is not intended to be a substitute for professional or medical advice on personal health matters. For personal medical advice, or if you are concerned about a medical condition or injury, see your healthcare provider for evaluation and care. The USMS website also contains articles about swim training and technique, including drills and workouts. All swimmers should be evaluated by a healthcare professional prior to beginning swim training. In addition, consult with a trained coach when introducing new technique or drills to your swim training program.