U.S. Masters Swimming Articles & Videos
Presented by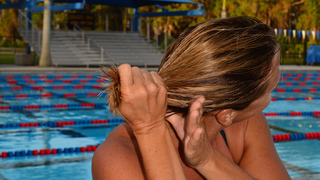 Advertorial
Because of the vast number of products now available, choosing the right personal care product can be a confusing process for swimmers. After all, nearly all of these personal care products claim to remove chlorine. 
Advertorial / Product Reviews
With the 2016 Rio Olympics just over a year away, swim brands have already started releasing their newest technical racing suits featuring the latest technology, construction, and performance materials.
Advertorial / Training
Although swimming is a low-impact workout, it can also provide high-resistance training when you use the right equipment. Incorporating swim fins into your training can help you increase stamina, build leg strength, and improve technique.
Advertorial
Training paddles are lightweight tools built for in-water use. When strapped to the palms of each hand, they help to improve stroke technique and arm strength by evenly distributing water pressure....
Advertorial
Swimming is kind to the body—its low impact and near-weightless suspension can make your joints sing with joy. However, the repetitive movements aren't always so forgiving, particularly on the...
Advertorial
A pull buoy is a compact and easy tool to use while you swim. Placed between the legs, the pull buoy creates an ideal body position by lifting your legs to the surface. From Olympian to novice, pulling is a great way to increase endurance, improve technique, and add some variation to your swim workout.
Advertorial
Have you ever wished that your swimsuit fit your body better or was just simply more comfortable? Are you tired of pulling and tugging your suit in order to try to get it to cover more of your body?...

The USMS website contains articles about sports medicine, health, and nutrition. This information is not intended to be a substitute for professional or medical advice on personal health matters. For personal medical advice, or if you are concerned about a medical condition or injury, see your healthcare provider for evaluation and care. The USMS website also contains articles about swim training and technique, including drills and workouts. All swimmers should be evaluated by a healthcare professional prior to beginning swim training. In addition, consult with a trained coach when introducing new technique or drills to your swim training program.