U.S. Masters Swimming Articles & Videos
Presented by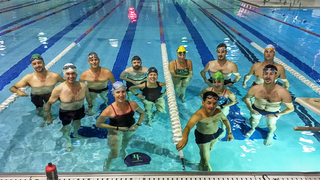 USMS Clubs
The August membership drive was a success for clubs of all shapes and sizes, and at the larger end of the spectrum, Lane 4 Swimming (Potomac Valley) finished in second place with 47 new members. That...
USMS Clubs
Linda Bostic, 52, never intended to found one of the fastest-growing Masters programs in the country or to become a top coach within U.S. Masters Swimming. All she was looking to do back in 2009 was to start swimming again. 
Adult Learn-to-Swim / USMS Clubs
Coach Benicia Rivera of the Richmond Plunge Masters received a Swimming Saves Lives Foundation Grant in 2014. What she did with it will warm your heart. She sent us this video as a thank-you for the grant. Thank YOU, Coach Rivera, for all you've done here.
Coaching / USMS Clubs
If you are fortunate to live in a city that has a college or university, you may have the opportunity to develop a Masters program there. Our experience with Indy Aquatic Masters is one example of how USMS club teams can build relationships with local universities.
Advertorial / USMS Clubs / USMS Promotional
See how two USMS partners, Swimoutlet.com and P2Life, can help you raise money for your Masters program.
Coaching / USMS Clubs / USMS Promotional
Many swimmers, your writer included, have had an initial hesitation to join a Masters program; after all, this is a team for serious swimmers, right? Super speedy Type As who thrive on competition or weekend warriors hungry to improve their swimming technique for triathlons?  
Events / Fitness / USMS Clubs
Tom Taylor is a part time resident of Sun City, Arizona, but he is fully invested in his winter community and his swim team. He proved his commitment recently by organizing a swim relay in...

The USMS website contains articles about sports medicine, health, and nutrition. This information is not intended to be a substitute for professional or medical advice on personal health matters. For personal medical advice, or if you are concerned about a medical condition or injury, see your healthcare provider for evaluation and care. The USMS website also contains articles about swim training and technique, including drills and workouts. All swimmers should be evaluated by a healthcare professional prior to beginning swim training. In addition, consult with a trained coach when introducing new technique or drills to your swim training program.