U.S. Masters Swimming Articles & Videos
Presented by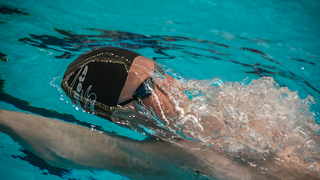 Drills / Stroke Technique
Backstroke is a mystery to so many swimmers, even ones who swim it well. But you can take away all the pain, confusion, and discomfort with one simple sentence. Backstroke, just like the other three strokes, requires breathing in the rhythm of the head in and out of the water.
Stroke Technique / Training / Triathlon
Before you begin incorporating training equipment into your workout sets, it's important to understand that such tools should be used to correct technique, not swim faster in training sets....
Drills / Stroke Technique
As a child, long before Sesame Street was on TV, I watched an educational show called Romper Room. Frequently, a large bumblebee character called Mr. Do-Bee presented good and inappropriate behaviors...
Advertorial / Stroke Technique / Training
When most people think of a monofin, they probably visualize a mermaid gracefully undulating through a fictional underwater paradise. Not just the stuff of fairytales, this large, single-blade fin can be found on pool decks around the country and has contributed to many Olympic gold medals.
Fitness / Stroke Technique / Training
Stu Kahn from Davis Aquatic Masters describes the differences between the propeller freestyle stoke and the paddle freestyle stroke, as featured in the May/June issue of SWIMMER Magazine. 
Coaching / Drills / Stroke Technique / Triathlon
Recently, a coach told me about watching his novice swimmers flutter kick. Despite a lot of effort, they weren't going anywhere. The coach had tried wall kicks and a few other techniques to improve...
Drills / Open Water / Stroke Technique
Most triathletes who come from running and cycling backgrounds are well acquainted with "sinking legs syndrome," an imbalance in body position during swimming. With more muscle mass in the legs, it's...

The USMS website contains articles about sports medicine, health, and nutrition. This information is not intended to be a substitute for professional or medical advice on personal health matters. For personal medical advice, or if you are concerned about a medical condition or injury, see your healthcare provider for evaluation and care. The USMS website also contains articles about swim training and technique, including drills and workouts. All swimmers should be evaluated by a healthcare professional prior to beginning swim training. In addition, consult with a trained coach when introducing new technique or drills to your swim training program.