U.S. Masters Swimming Articles & Videos
Presented by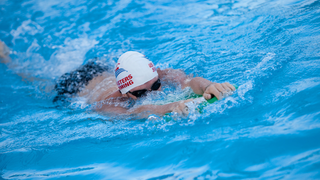 Coaching / Drills / Stroke Technique / Triathlon
Recently, a coach told me about watching his novice swimmers flutter kick. Despite a lot of effort, they weren't going anywhere. The coach had tried wall kicks and a few other techniques to improve...
Coaching / Drills / Stroke Technique
Information abounds about early vertical forearm and the importance of EVF in establishing an efficient pull in freestyle. I've even posted several articles on my club website about EVF. But I've...
Coaching
While at dinner with some coaches a few months back, the subject of water time and pool space came up. Several coaches lamented the fact that they want to grow but can't, because of the...
Coaching / Drills / Open Water / Triathlon
You've probably witnessed or heard of one of your swimmers having something chaotic happen in a swim event. Here are three common occurrences and three practice activities that can provide the knowledge swimmers need to handle these difficult situations with confidence.
Coaching / USMS Clubs
If you are fortunate to live in a city that has a college or university, you may have the opportunity to develop a Masters program there. Our experience with Indy Aquatic Masters is one example of how USMS club teams can build relationships with local universities.
Coaching / Training
We all know someone (maybe you are one yourself) who is a great multitasker. You know—the type of person who can concentrate on multiple things at the same time and seem to do all of them pretty...
Coaching / Training / USMS Promotional
In March 2013 I attended the USMS/ASCA Level 3 coaching certification course at the Rose Bowl Aquatic Center. I had attended Levels 1 and 2 in 2012, and I found that Level 3 unified all of the...

The USMS website contains articles about sports medicine, health, and nutrition. This information is not intended to be a substitute for professional or medical advice on personal health matters. For personal medical advice, or if you are concerned about a medical condition or injury, see your healthcare provider for evaluation and care. The USMS website also contains articles about swim training and technique, including drills and workouts. All swimmers should be evaluated by a healthcare professional prior to beginning swim training. In addition, consult with a trained coach when introducing new technique or drills to your swim training program.