U.S. Masters Swimming Articles & Videos
Presented by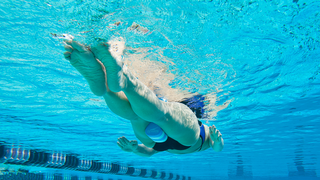 Coaching / Stroke Technique
When sculling, you create high- and low-pressure areas by changing the pitch and shape of your hand. Much the way an airplane wing or a propeller works, the movement of water around your hand during...
Coaching
From our perspective as Masters swim coaches, the benefits of participating in our programs are obvious. Masters swimming provides conspicuous improvements in health, fitness, and racing speed—as...
Coaching / Stroke Technique / Training
When U.S. Masters Swimming began in 1970, Mark Spitz had only earned his first two Olympic gold medals, and Michael Phelps was 15 years away from even being born. Today, the Spitz poster I had in my...
Coaching / Training
Learning to improve control of your breathing while swimming is a valuable skill that will enable you to power off the wall, put your head down at the flags to win a race, or not panic in open water...
Coaching / Stroke Technique
The lateral upper-body line is an imaginary line running from elbow to elbow through the collarbones or clavicles when the arms are extended straight out to the sides. If it helps, think of making a...
Coaching
When swimmers talk about flexibility, they're usually referring to exercises that increase range of motion, such as those discussed in the January-February 2014 issue of SWIMMER magazine. But...
Coaching / Stroke Technique / Training
Swimming is different from most other sports because we spend very little time exerting force against a solid object. As terrestrial creatures, we spend our whole lives with resistance based on some...

The USMS website contains articles about sports medicine, health, and nutrition. This information is not intended to be a substitute for professional or medical advice on personal health matters. For personal medical advice, or if you are concerned about a medical condition or injury, see your healthcare provider for evaluation and care. The USMS website also contains articles about swim training and technique, including drills and workouts. All swimmers should be evaluated by a healthcare professional prior to beginning swim training. In addition, consult with a trained coach when introducing new technique or drills to your swim training program.