U.S. Masters Swimming Articles & Videos
Presented by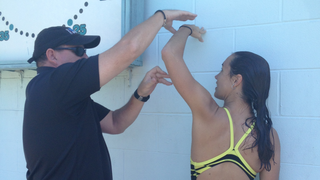 Coaching / Drills
No, you're not hitting it or pushing off of it. You're using it to teach your tactile and kinesthetic learners what a really good freestyle pull feels like.
Coaching / Training
From the end of October to mid-March, coaches can really break the monotony of workouts by offering a few special holiday practices. Adding a little spice to practices this time of year helps...
Coaching / Training
For many swimmers, distance sets can be dull as they seem to go on, and on, and on. For others though, a continuous swim can be manageable or even pleasurable. Regardless of your interest in long distance and tolerance for swimming long sets, ladder sets can be highly beneficial for all swimmers.
Coaching / Health and Nutrition
There have been numerous articles on the dangers of dehydration and overheating while swimming in the summer months, especially in pools that lack cooling systems. As coaches, we stress hydrating...
Coaching / Stroke Technique
For SWIMMER Magazine, U.S. Masters Swimming Coach Cokie Lepinski shows us how to pump up our Paddle Power and transform our hands and forearms into the ultimate propulsive tool.
Coaching
Like many Masters swim clubs, our club faces a yearly exodus—usually beginning in October—of members at the end of triathlon season. To better explain: we train two local women's teams and our...
Coaching / Drills
Some people have great kicks, but when you take away the kick board and ask them to swim, their kick disappears faster than a fair weather swimmer on a cold day. So how do we get the lower half of...

The USMS website contains articles about sports medicine, health, and nutrition. This information is not intended to be a substitute for professional or medical advice on personal health matters. For personal medical advice, or if you are concerned about a medical condition or injury, see your healthcare provider for evaluation and care. The USMS website also contains articles about swim training and technique, including drills and workouts. All swimmers should be evaluated by a healthcare professional prior to beginning swim training. In addition, consult with a trained coach when introducing new technique or drills to your swim training program.