U.S. Masters Swimming Articles & Videos
Presented by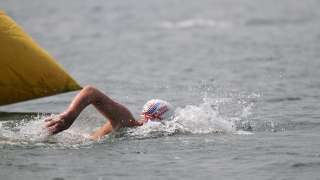 Coaching / Drills / Open Water / Training / Triathlon
You can spot them in your parking lot: those cars with the bike racks on top, sometimes with the bikes still in them. Along with the racks come the M-dot or oval stickers announcing the completion of...
Coaching / Drylands / Sports Medicine / Training
Movement and muscle imbalances cause the majority of chronic injuries, and swimming is an imbalanced sport.
Coaching / Open Water / Training / Triathlon
Preparing your athletes for an open water swim with a surf entry is an important part of helping them get ready for the coming open water season. The set below offers some ideas for how to teach...
Coaching / USMS Clubs / USMS Promotional
Many swimmers, your writer included, have had an initial hesitation to join a Masters program; after all, this is a team for serious swimmers, right? Super speedy Type As who thrive on competition or weekend warriors hungry to improve their swimming technique for triathlons?  
Coaching / Training
How we view things, including ourselves, is the critical factor in every challenge we face: in swimming, school, work, home, everywhere. A positive attitude makes success possible, while a negative...
Coaching / Stroke Technique
Standing on deck coaching a Masters workout, I often have mixed feelings when I see swimmers reaching for their pulling gear. All too frequently, hand paddles and pull buoys become crutches, an...
Coaching / Drills / Stroke Technique
Humans are land-based, vertical mammals. So asking a swimmer to get wet, go horizontal, upside down, and then swim backwards? Well heck, no wonder backstroke sets can set some swimmers groaning.
The USMS website contains articles about sports medicine, health, and nutrition. This information is not intended to be a substitute for professional or medical advice on personal health matters. For personal medical advice, or if you are concerned about a medical condition or injury, see your healthcare provider for evaluation and care. The USMS website also contains articles about swim training and technique, including drills and workouts. All swimmers should be evaluated by a healthcare professional prior to beginning swim training. In addition, consult with a trained coach when introducing new technique or drills to your swim training program.