U.S. Masters Swimming Articles & Videos
Presented by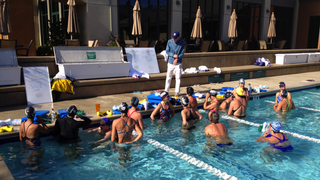 Coaching
Like many Masters swim clubs, our club faces a yearly exodus—usually beginning in October—of members at the end of triathlon season. To better explain: we train two local women's teams and our...
Coaching / Drills
Some people have great kicks, but when you take away the kick board and ask them to swim, their kick disappears faster than a fair weather swimmer on a cold day. So how do we get the lower half of...
Coaching / Drills
Playing water polo can help swimmers increase their speed and endurance. Many of the sets and exercises water polo coaches give their players can also help swimmers with their technique. And who knows, you may even find your swimmers and yourself having fun trying a water polo workout! 
Coaching
There's a lot to love about swimming: competition, camaraderie, and the feeling of being well and healthy. For us coaches, one of the more interesting things we deal with regularly is how we...
Coaching
We've spent a number of years preaching high elbow. There have been various interpretations of this directive, and we'll get into that shortly. But as I was working with a rather flexible athlete recently, a funny thing occurred to me: we never talk about where the shoulder should be.
Advertorial / Coaching
Most coaches can probably relate to the adage: there's simply too much to do and not enough hours in the day in which to do it all. Their days are filled with coaching athletes, planning schedules, handling the latest pool equipment breakdown, planning and attending meets, and communicating with members.
Coaching
Coaches are often asked what athletes should do for warm-up before they race at a meet. The best warm-up should challenge and prepare your swimmers not too much, not too little, but just right. And...

The USMS website contains articles about sports medicine, health, and nutrition. This information is not intended to be a substitute for professional or medical advice on personal health matters. For personal medical advice, or if you are concerned about a medical condition or injury, see your healthcare provider for evaluation and care. The USMS website also contains articles about swim training and technique, including drills and workouts. All swimmers should be evaluated by a healthcare professional prior to beginning swim training. In addition, consult with a trained coach when introducing new technique or drills to your swim training program.