U.S. Masters Swimming Articles & Videos
Presented by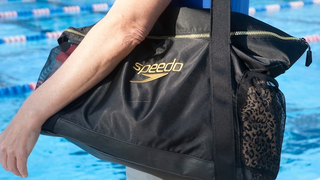 Human Interest
Swimmers, like many athletes, can be extremely focused and driven. Some are kinetic while others are relaxed. They work in a variety of professions. Some swim for fitness and some for social reasons...
Human Interest
Last summer I covered recreational swim championships for the sports section of a local newspaper. Although I'm a Masters swimmer now, I was never a swimmer growing up. The fanfare, the crowds, the...
Biography / Human Interest
Writer Kristina Henry reviewed Leanne Shapton's "Swimming Studies" for the July-August issue of SWIMMER, but that only told half the story. Her interview with Shapton reveals more about this very personal memoir of a talented swimmer and artist.
Human Interest
The ping of the alarm rather than the pitter-patter of little feet or a babe's cry jolts me out of a deep sleep. Drowsy, I turn off the alarm and glance at the clock: 5:25 a.m. I drag myself from...
History / Human Interest
Five U.S. Masters Swimming members were recognized for their skills and impressive list of world records...
Human Interest / Open Water
When I was 12 years old, I was a promising swimmer. My dad and I regularly swam the width of Lake George, New York. The lake was 3.3 miles at its widest point. We worked our way up to doing it five...
Human Interest
Bev Montrella, 66, of Mision Viejo, Calif., is a dedicated Go the Distance swimmer. She enjoys setting goals for herself, and Go the Distance helps her to do that.

The USMS website contains articles about sports medicine, health, and nutrition. This information is not intended to be a substitute for professional or medical advice on personal health matters. For personal medical advice, or if you are concerned about a medical condition or injury, see your healthcare provider for evaluation and care. The USMS website also contains articles about swim training and technique, including drills and workouts. All swimmers should be evaluated by a healthcare professional prior to beginning swim training. In addition, consult with a trained coach when introducing new technique or drills to your swim training program.