U.S. Masters Swimming Articles & Videos
Presented by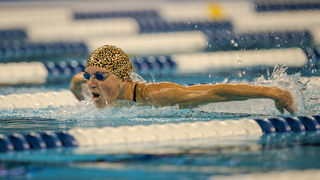 History / Human Interest
Five U.S. Masters Swimming members were recognized for their skills and impressive list of world records...
Human Interest / Open Water
When I was 12 years old, I was a promising swimmer. My dad and I regularly swam the width of Lake George, New York. The lake was 3.3 miles at its widest point. We worked our way up to doing it five...
Human Interest
Bev Montrella, 66, of Mision Viejo, Calif., is a dedicated Go the Distance swimmer. She enjoys setting goals for herself, and Go the Distance helps her to do that.
Human Interest / Training
Swimmers who choose to swim in college, mostly at the NCAA level, will spend hours training in the pool, gym and weight room. Often, training is akin to a part-time job for student athletes. It's...
Biography / Human Interest
Six years ago, a happy but exhausted Inge Clark had a toddler and three infants on her hands. "Four kids does a number on your body," explains Clark, making what might be the understatement of...
Events / Human Interest
Rob Butcher and Misty Hyman recap Day 3 of the 2012 Marriott U.S. Masters Swimming Summer Nationals. Each year hundreds of Masters Swimmers participate in these nationals, this year however it means something special to swim in the U.S. Swimming Trials Pool.
Events / Human Interest / Open Water
With "clean burning fuel" and a sprinter's mentality, Becky Fenson swam the recent 10K Little Red Lighthouse Swim in New York's Hudson River all butterfly. For the second time. Fenson, 44 and...
The USMS website contains articles about sports medicine, health, and nutrition. This information is not intended to be a substitute for professional or medical advice on personal health matters. For personal medical advice, or if you are concerned about a medical condition or injury, see your healthcare provider for evaluation and care. The USMS website also contains articles about swim training and technique, including drills and workouts. All swimmers should be evaluated by a healthcare professional prior to beginning swim training. In addition, consult with a trained coach when introducing new technique or drills to your swim training program.