U.S. Masters Swimming Articles & Videos
Presented by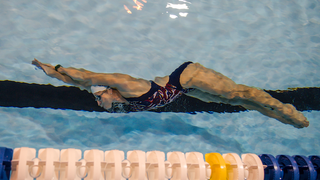 Biography / Human Interest
Olympian and USMS on-deck correspondent Misty Hyman, 34, of Phoenix, Ariz., is best known for winning the women's 200-meter butterfly in stunning fashion at the 2000 Sydney Olympics. In a glorious...
Biography
New York resident Bob Unger, 56, swims with the Seawolves Masters in the Metropolitan LMSC. He started as a middle distance runner in high school and college, but an injury and life got in the way...
Biography
Kristin Irish, 49, of Greenwich, Conn., started swimming when she was 6. Her three sisters swam as well, but Irish is the only one of them still swimming, after having taken a break from competing...
Biography
Roberta Green, a 58-year-old attorney who grew up swimming on a local team in Colorado, now lives in Vienna, W.Va. She swims primarily at the YMCA in Parkersburg, with an occasional excursion to the Y in Marietta and the Aquatics Center at Ohio University in Athens, Ohio.
Biography
Melodee Nugent is a long distance swimmer and a member of Wisconsin Masters. She started swimming in an age-group club at the age of 7, and swam all through high school, but took a break during...
Biography
Mary Quinn, 41, lives in Chicago. She works in after-school and community-mentoring programs for local youth. She also does volunteer work, enjoys going to movies, swimming with her friends, and baking her famous pumpkin cookies.
Biography
Charles Dean, 46, lives in St. Petersburg, Fla., close to the beach and the pool. This married father of three grown sons and three grandsons says he feels like a 30-year-old most of the time, but by the end of a main swim set, he feels his true age. All 46 years of it. That's because he swims a lot.

The USMS website contains articles about sports medicine, health, and nutrition. This information is not intended to be a substitute for professional or medical advice on personal health matters. For personal medical advice, or if you are concerned about a medical condition or injury, see your healthcare provider for evaluation and care. The USMS website also contains articles about swim training and technique, including drills and workouts. All swimmers should be evaluated by a healthcare professional prior to beginning swim training. In addition, consult with a trained coach when introducing new technique or drills to your swim training program.