U.S. Masters Swimming Articles & Videos
Presented by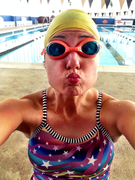 Biography
Suits. Business requires we dress for success, right? Perhaps the person who created the expression Think Tank was a swimmer. 
Biography
From the time he could walk, Charles Lee jumped into the lake at his family's summer retreat near Terre Haute, Ind. The property, dubbed "Lock Lee," sat on two lakes, one of which was a...
Biography
Tank McNamara is a very recent survivor of testicular cancer who is reaching out to help other swimmers who have been diagnosed with or treated for this type of cancer. Although he notes that there is still a 20 percent chance of relapse, he comments that he is "hoping for the best in that regard." 
Adult Learn-to-Swim / Biography / Human Interest
Tselane Gardner, 48, of Rose Bowl Masters, didn't grow up a swimmer. Rather, she had a few, limited interactions with a neighbor's pool in the summers. "I didn't really know how to swim, so I'd just play around in the shallow end and have fun," she recalls. 
Biography / History / Human Interest
When I was asked to write a brief remembrance piece of Paul Hutinger and June Krauser—two pillars of the early days of U.S. Masters Swimming who dedicated so much time and energy to building the...
Biography / Human Interest
Olympian and USMS on-deck correspondent Misty Hyman, 34, of Phoenix, Ariz., is best known for winning the women's 200-meter butterfly in stunning fashion at the 2000 Sydney Olympics. In a glorious...
Biography / Open Water
New York resident Bob Unger, 56, swims with the Seawolves Masters in the Metropolitan LMSC. He started as a middle distance runner in high school and college, but an injury and life got in the way...

The USMS website contains articles about sports medicine, health, and nutrition. This information is not intended to be a substitute for professional or medical advice on personal health matters. For personal medical advice, or if you are concerned about a medical condition or injury, see your healthcare provider for evaluation and care. The USMS website also contains articles about swim training and technique, including drills and workouts. All swimmers should be evaluated by a healthcare professional prior to beginning swim training. In addition, consult with a trained coach when introducing new technique or drills to your swim training program.