U.S. Masters Swimming Articles & Videos
Presented by

The Oral History project is provided and supported by the USMS History & Archives Committee. Oral History offers an opportunity to any one to give honor to a Masters Swimmer who has in some significant way made an impact on the sport, on a local team, or on a particular person. This is not necessarily one of our elite swimmers - in fact, it is geared more to those who have "labored in the fields" and changed some aspect of Masters Swimming for the better. When we have sufficient information on a certain person, it may become a
"story"
.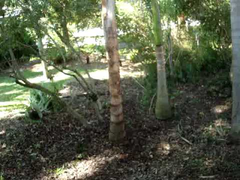 Events / History
More than 30 Sarasota Masters swimming volunteers help to clean up the landscape and surrounding area of U.S. Masters Swimming headquarters. Narrated by Rob Butcher.
Events / History
Take a tour of the newly renovated U.S. Masters Swimming headquarters. It's hard to believe for almost 40 years the organization was virtually operated. Narrated by Rob Butcher.
Biography / History
I just happened to be searching the web for my father, Wallace W Laury, and was thrilled to find him on your site.For your records, he was born in 1901. He died 22 May, 1991. He gave his life to...
Biography / History
Watson was a great contributor to establishing Masters swimming in Illinois. He organized the club at B. R. Ryall YMCA. Early in 1973 I learned the Y had a 5:30 a.m. swim time. I had very young...
Biography / History
I can't believe I was ever fast enough to have made All-American! I was at a swim meet several months ago held at the pool where the Indian Valley Aquatic Club used to swim in Novato, and saw that Donna still held a couple of records in the eight and under group. Not bad after more than 20 years!  
Biography / History
Some time back, you expressed interest in information about the early days of Masters in our area. I was the first president of the local USMS organization (Jim Forbes headed the Metro club - which had all the dues money). Masters was then part of the AAU which did zero to promote the sport. 
Biography / History
Ashby Harper (1916 - 1992), once the oldest person to swim the English Channel, died on Saturday July 1, 1992 at the age of 75. Edie Gruender back in 1978 organized and ran the National Two Mile...

The USMS website contains articles about sports medicine, health, and nutrition. This information is not intended to be a substitute for professional or medical advice on personal health matters. For personal medical advice, or if you are concerned about a medical condition or injury, see your healthcare provider for evaluation and care. The USMS website also contains articles about swim training and technique, including drills and workouts. All swimmers should be evaluated by a healthcare professional prior to beginning swim training. In addition, consult with a trained coach when introducing new technique or drills to your swim training program.