U.S. Masters Swimming Articles & Videos
Presented by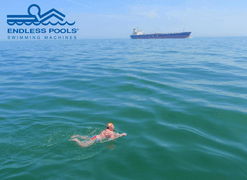 Training / USMS Promotional
Throughout 2010, there was a button on the USMS homepage that you could click and enter a contest to win a Fastlane Pool from Endless Pools. Endless Pools' products are essentially water...
Drylands / Fitness / Training
Watch any age group swim team and the majority will moan when the coach says:  "Okay, time for drylands." They fuss and are slow at getting out of the water. They even say under their breath,...
Coaching / Drills / Training
Warm Up Be sure and do a thorough warm up of 400-700 yards. Following sets use Mode 1 of the Tempo Trainer (TT)
Coaching / Events / Training
This new Masters swimmer shares his experiences from SwimFest and his transformation from an outsider to part of the family.
Fitness / Human Interest / Training
With my back troubles, swimming has become my main source of exercise. Naively, I thought that all I'd need to practice this sport was a swimsuit (and that only because of modesty). Wrong! There is...
Coaching / Training
The wait was six years. The place was no longer the Olympic Training Center in Colorado Springs, but the brand-new Greensboro Aquatic Center in Greensboro, N.C. The USMS High Performance Camp...
Coaching / Drills / Training
Warm Up Be sure and do a thorough warm up of 400-700 yards.

The USMS website contains articles about sports medicine, health, and nutrition. This information is not intended to be a substitute for professional or medical advice on personal health matters. For personal medical advice, or if you are concerned about a medical condition or injury, see your healthcare provider for evaluation and care. The USMS website also contains articles about swim training and technique, including drills and workouts. All swimmers should be evaluated by a healthcare professional prior to beginning swim training. In addition, consult with a trained coach when introducing new technique or drills to your swim training program.