U.S. Masters Swimming Articles & Videos
Presented by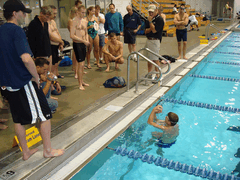 Coaching / Training
Who says you can't teach an old dog new tricks?  Race preparation and mental training were key elements in a Masters clinic held in Charlotte last week.  One very well known Masters coach, a USA...
Training / USMS Clubs
Human interest, news, records, personalities, recipes and more.  Local Masters Swimming Committess, local programs and volunteers keep U.S. Masters swimmers informed and engaged.  Are you green?  Find out how some are cutting waste and costs.  
Coaching / Training
Black Friday is not for the faint of heart. It often requires pushing through a crowd to get to the sale rack, high levels of endurance to speed walk through the mall, and motivation to stick it out...
Human Interest / Training
The Cronins are a swimming family and at this year's New England Masters Championship at Harvard, three generations competed in the family team, Technique and Training, better known as TNT. The...
Human Interest / Training
"But I'm not a runner." I said. "It doesn't matter. You can walk part, run part. That's what we did last year," said the woman next to me as we toweled off in the locker room after swim...
Fitness / Training
After paying dues, and receiving that nation-wide passport known as the USMS card, immigrants to the People's Republic of Swimming must realize that they have entered a new culture, with its own...
Fitness / Sports Medicine / Training
In 2004 the Food And Nutrition Board of the Institute of Medicine released new Dietary Reference Intakes for water, sodium and other electrolytes. The recommendations are for the average adult, who...

The USMS website contains articles about sports medicine, health, and nutrition. This information is not intended to be a substitute for professional or medical advice on personal health matters. For personal medical advice, or if you are concerned about a medical condition or injury, see your healthcare provider for evaluation and care. The USMS website also contains articles about swim training and technique, including drills and workouts. All swimmers should be evaluated by a healthcare professional prior to beginning swim training. In addition, consult with a trained coach when introducing new technique or drills to your swim training program.