U.S. Masters Swimming Articles & Videos
Presented by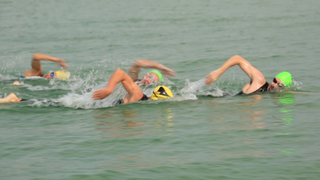 Open Water / Technique and Training
Most swimmers who train in the pool use both the lane lines and markings on the bottom of the pool to tell them whether or not they're swimming in a straight line. With the visual feedback from...
Coaches Only / Technique and Training
The catch position and phase of each stroke is paramount to a swimmer's success. Swimmers who improve their catch will automatically increase their power and endurance without any metabolic training. Once a great catch has been established, it can cover up a lot of other technical flaws in the stroke. 
Technique and Training
Some athletes work for a long time and exert a lot of energy but realize only small increases in strength. Often, though, they can see significant increases in strength by implementing a few simple...
Technique and Training
Even before the development of scientific studies and advanced laboratories for metabolic analysis, swimmers became aware of the following basic facts: Breathing in while your face is underwater is...
Coaches Only / Technique and Training
"Oh, my aching shoulder! Coach, what can I do for this?" How many of us coaches hear this on a daily basis? Adult swimmers are so crunched for time that most of them can't properly take care of...
Technique and Training
Kick timing is an important but often-overlooked aspect of freestyle. But when your swimmers find the right kick pattern, they can tap into previously unavailable core power to push themselves...
Technique and Training
Aquatic sports are the only competitive activities where the same medium (water) provides both the platform for your propulsion and the forces that slow your progress. In other words, your arms and...

The USMS website contains articles about sports medicine, health, and nutrition. This information is not intended to be a substitute for professional or medical advice on personal health matters. For personal medical advice, or if you are concerned about a medical condition or injury, see your healthcare provider for evaluation and care. The USMS website also contains articles about swim training and technique, including drills and workouts. All swimmers should be evaluated by a healthcare professional prior to beginning swim training. In addition, consult with a trained coach when introducing new technique or drills to your swim training program.