U.S. Masters Swimming Articles & Videos
Presented by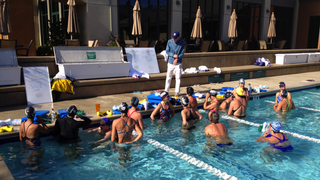 Drills
You've probably witnessed or heard of one of your swimmers having something chaotic happen in a swim event. Here are three common occurrences and three practice activities that can provide the knowledge swimmers need to handle these difficult situations with confidence.
Drills / Stroke Technique / Training
Coaches often talk about the recovery, the catch, the rotation of the body, and a lot of other things that contribute to fast freestyle. Granted, there are a lot of things that are matters of style,...
Drills / Stroke Technique
Butterfly is all about rhythm and good technique. Many swimmers struggle with developing and timing a strong second kick, which is important for a faster and more efficient butterfly.
Drills / Open Water / Stroke Technique / Training / Triathlon
A two-beat kick in freestyle is an essential tool for stroke improvement, endurance swimming, open water swims (hello triathletes!) and all-around efficiency. Stroke timing, "downhill" momentum, and energy optimization are targeted in the two-beat kick.
Coaching / Drills / Open Water / Training / Triathlon
You can spot them in your parking lot: those cars with the bike racks on top, sometimes with the bikes still in them. Along with the racks come the M-dot or oval stickers announcing the completion of...
Drills / Stroke Technique / Training
Want to feel the difference? Kenny Brisbin, coach of the Long Beach Grunions offers tips and drills to improve your feel for the water while leveraging your paddle time.
Drills / Sports Medicine / Training
What is diaphragmatic breathing? Diaphragmatic breathing is deep breathing that engages the lungs and abdomen together and causes the belly to rise and fall with breaths. The proper position for...

The USMS website contains articles about sports medicine, health, and nutrition. This information is not intended to be a substitute for professional or medical advice on personal health matters. For personal medical advice, or if you are concerned about a medical condition or injury, see your healthcare provider for evaluation and care. The USMS website also contains articles about swim training and technique, including drills and workouts. All swimmers should be evaluated by a healthcare professional prior to beginning swim training. In addition, consult with a trained coach when introducing new technique or drills to your swim training program.