U.S. Masters Swimming Articles & Videos
Presented by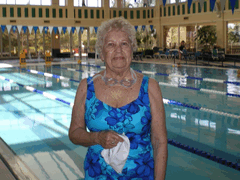 Fitness / Sports Medicine
Joan Souchek can breathe again. Eleven years after being diagnosed with asthma and chronic obstructive pulmonary disease, the 82-year old says she surprised her doctor with a clean bill of health....
Sports Medicine
Eat. Swim. Sleep. Repeat. You'll find this slogan on a sticker that Ray Venture has placed on his car. For him, it is more than a slogan though, it is his way of life. And he only started swimming...
Fitness / Sports Medicine / Training
In 2004 the Food And Nutrition Board of the Institute of Medicine released new Dietary Reference Intakes for water, sodium and other electrolytes. The recommendations are for the average adult, who...
Fitness / Sports Medicine
Vitamins are the most common supplement taken by the general population and by athletes. Many people are concerned that their diet will not provide adequate amounts of vitamins, so they use vitamin...
Fitness / Sports Medicine
Osteoporosis is a disease in which the bones become brittle. It is the most common bone disease and affects both men and women. It is a progressive disease that frequently goes undetected until a...
Fitness / Sports Medicine
Don't assume that the ingredients listed on the supplement label, and only those ingredients, are present in the amounts stated. There is essentially no regulation of the supplement industry.
Fitness / Sports Medicine
Have you ever wondered why you feel like the flu is coming on just before a meet or an important event? I have known swimmers who can actually will themselves to feel sick days before a meet.

The USMS website contains articles about sports medicine, health, and nutrition. This information is not intended to be a substitute for professional or medical advice on personal health matters. For personal medical advice, or if you are concerned about a medical condition or injury, see your healthcare provider for evaluation and care. The USMS website also contains articles about swim training and technique, including drills and workouts. All swimmers should be evaluated by a healthcare professional prior to beginning swim training. In addition, consult with a trained coach when introducing new technique or drills to your swim training program.