U.S. Masters Swimming Articles & Videos
Presented by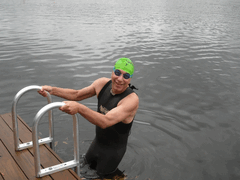 Sports Medicine
I was 60 years old, 5'-10", and pushing 200 pounds a year ago. My blood pressure was 140/90, and my physician said we'd watch it for six months and put me on medication if it stayed elevated. I...
Sports Medicine
This fall, most swimmers will be coming off a break following the long-course swimming season. Coaches will be going to their annual national and state meetings, where they learn new training techniques and share some of their own experiences of the past year. The time is now to prevent injuries.
Sports Medicine
That's right … no pain, or no show. Contrary to the usual mantra of no pain, no gain, Masters coaches know the truth: many athletes will not show up to your practice if they are hurting from the...
Fitness / Sports Medicine
Joan Souchek can breathe again. Eleven years after being diagnosed with asthma and chronic obstructive pulmonary disease, the 82-year old says she surprised her doctor with a clean bill of health....
Sports Medicine
Eat. Swim. Sleep. Repeat. You'll find this slogan on a sticker that Ray Venture has placed on his car. For him, it is more than a slogan though, it is his way of life. And he only started swimming...
Fitness / Sports Medicine / Training
In 2004 the Food And Nutrition Board of the Institute of Medicine released new Dietary Reference Intakes for water, sodium and other electrolytes. The recommendations are for the average adult, who...
Fitness / Sports Medicine
Vitamins are the most common supplement taken by the general population and by athletes. Many people are concerned that their diet will not provide adequate amounts of vitamins, so they use vitamin...

The USMS website contains articles about sports medicine, health, and nutrition. This information is not intended to be a substitute for professional or medical advice on personal health matters. For personal medical advice, or if you are concerned about a medical condition or injury, see your healthcare provider for evaluation and care. The USMS website also contains articles about swim training and technique, including drills and workouts. All swimmers should be evaluated by a healthcare professional prior to beginning swim training. In addition, consult with a trained coach when introducing new technique or drills to your swim training program.