U.S. Masters Swimming Articles & Videos
Presented by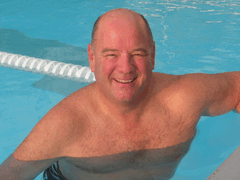 Sports Medicine
When you think of the Swimming Saves Lives foundation, what do you think? If you are like many people, you may think of the lifesaving aspect of swimming in terms of drowning prevention. While...
Drylands / Fitness / Sports Medicine / Training
Hunched shoulders and tight pecs anyone? As a swimmer you probably know that these anatomical pitfalls tend to come with regular swimming when you don't stretch and counter pose from the repetitive...
Sports Medicine
Athletes who participate in shoulder-stressing sports, such as tennis and swimming, often experience laxity, or looseness, in their shoulders, with female athletes normally having more shoulder...
Sports Medicine / Training
High blood pressure (HBP) and unusual stress can cause a hemorrhagic stroke, not usually as devastating as an ischemic stroke, which is the most common type of stroke and is caused by a clot or other...
Sports Medicine
I was 60 years old, 5'-10", and pushing 200 pounds a year ago. My blood pressure was 140/90, and my physician said we'd watch it for six months and put me on medication if it stayed elevated. I...
Sports Medicine
This fall, most swimmers will be coming off a break following the long-course swimming season. Coaches will be going to their annual national and state meetings, where they learn new training techniques and share some of their own experiences of the past year. The time is now to prevent injuries.
Sports Medicine
That's right … no pain, or no show. Contrary to the usual mantra of no pain, no gain, Masters coaches know the truth: many athletes will not show up to your practice if they are hurting from the...

The USMS website contains articles about sports medicine, health, and nutrition. This information is not intended to be a substitute for professional or medical advice on personal health matters. For personal medical advice, or if you are concerned about a medical condition or injury, see your healthcare provider for evaluation and care. The USMS website also contains articles about swim training and technique, including drills and workouts. All swimmers should be evaluated by a healthcare professional prior to beginning swim training. In addition, consult with a trained coach when introducing new technique or drills to your swim training program.