U.S. Masters Swimming Articles & Videos
Presented by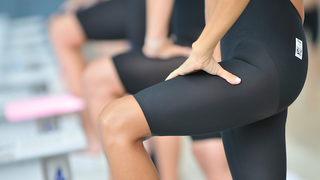 Products and Reviews
We get up early, work hard all season, put in the yardage, book our tickets, pay our meet fees, and schedule our "vacation" around swim meets. With varying degrees of confidence, we're...
Products and Reviews / Technique and Training
When most people think of a monofin, they probably visualize a mermaid gracefully undulating through a fictional underwater paradise. Not just the stuff of fairytales, this large, single-blade fin can be found on pool decks around the country and has contributed to many Olympic gold medals.
Coaches Only / Products and Reviews
Most coaches can probably relate to the adage: there's simply too much to do and not enough hours in the day in which to do it all. Their days are filled with coaching athletes, planning schedules, handling the latest pool equipment breakdown, planning and attending meets, and communicating with members.
Products and Reviews / Technique and Training
Have you ever wished you could trade your lungs for gills, so that you could swim freely for as long as you wanted without having to come up for air? Well, you can come close, thanks to one piece of training equipment: the snorkel.
Products and Reviews
If you get a speeding ticket on your way to swim practice, can your insurance rates go up? Will buying a spiffy new red SUV to lug your tri-bike around increase your insurance costs? With all the...
Health and Nutrition / Products and Reviews
Did you know: One in three Americans over the age of 20 is obese and after age 50, we lose 1 to 2 percent of our muscle mass every year? These and other interesting and possibly worrisome facts are included in P2Life's visual examination of the standard American diet. 
Products and Reviews
Swimmers know: It's important to be in the water at least once a day to keep your feel for the water and your stroke. Outside of the water, it's equally important to get in some dynamic dryland workouts for strength and flexibility.

The USMS website contains articles about sports medicine, health, and nutrition. This information is not intended to be a substitute for professional or medical advice on personal health matters. For personal medical advice, or if you are concerned about a medical condition or injury, see your healthcare provider for evaluation and care. The USMS website also contains articles about swim training and technique, including drills and workouts. All swimmers should be evaluated by a healthcare professional prior to beginning swim training. In addition, consult with a trained coach when introducing new technique or drills to your swim training program.