U.S. Masters Swimming Articles & Videos
Presented by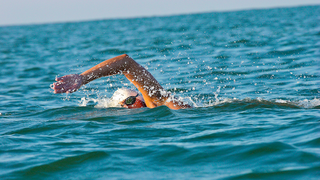 Drills / Open Water / Stroke Technique
Most triathletes who come from running and cycling backgrounds are well acquainted with "sinking legs syndrome," an imbalance in body position during swimming. With more muscle mass in the legs, it's...
Coaching / Drills / Stroke Technique
Information abounds about early vertical forearm and the importance of EVF in establishing an efficient pull in freestyle. I've even posted several articles on my club website about EVF. But I've...
Drills / Stroke Technique
To put it simply, if you want to swim faster, you need to reduce the drag you're creating in the water. There's an endless number of technical drills one can practice to improve body position, timing, and technique to reduce drag.
Stroke Technique
U.S. Masters Coach Stu Kahn talks about common mistakes that vex freestylers during the breathing portion of the stroke. Whether you're just learning to swim, or are already a seasoned pro, these tips will have you breathing easier in no time.
Drills / Stroke Technique / Training
Coaches often talk about the recovery, the catch, the rotation of the body, and a lot of other things that contribute to fast freestyle. Granted, there are a lot of things that are matters of style,...
Stroke Technique
To be good at any stroke, you need to heighten your feel for the water. For breaststroke, a heightened sense of the water is especially important in your arms. Sculling drills help improve your feel...
Drills / Stroke Technique
Butterfly is all about rhythm and good technique. Many swimmers struggle with developing and timing a strong second kick, which is important for a faster and more efficient butterfly.

The USMS website contains articles about sports medicine, health, and nutrition. This information is not intended to be a substitute for professional or medical advice on personal health matters. For personal medical advice, or if you are concerned about a medical condition or injury, see your healthcare provider for evaluation and care. The USMS website also contains articles about swim training and technique, including drills and workouts. All swimmers should be evaluated by a healthcare professional prior to beginning swim training. In addition, consult with a trained coach when introducing new technique or drills to your swim training program.