U.S. Masters Swimming Articles & Videos
Presented by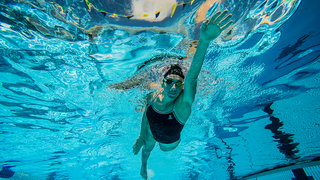 Drills / Stroke Technique
Unlike many sports, swimming is almost solely technique-based. Simply trying harder won't make you faster. At the risk of overgeneralizing, if you want to run faster you simply pick up the turnover...
Stroke Technique
Of all of the freestyle stroke techniques we teach at The Race Club, where to position the head is probably the most controversial. Although most coaches believe that the head should be kept in...
Stroke Technique
Who doesn't love that great warm-up mode—swimming nice, easy, happy laps in the comfort zone. This is good for the mind, body, and soul to be sure. But eventually, many swimmers want to see if...
Stroke Technique
Many of us over the age of 30 were taught that, during freestyle, our hands should enter the water thumb first. Some of us still swim this way. Others were taught to put our fingertips in first. You can see both styles being used today, even in the elite race pool.
Stroke Technique
Different people have different learning styles. Some learn best by reading, some by hearing, and some by watching. And of course, there is doing—guided by expert feedback. We are most effective...
Stroke Technique
Science defines swimming speed (S) as the result of propulsive force (F) multiplied by the turnover rate (R) minus the amount of drag (D). As a simple math equation, it looks like this: S = FR – D.
Stroke Technique
As terrestrially based creatures, we need to breathe. In most sports, breathing happens naturally, without any real thought required by the athlete as to when or how much to breathe. But swimming is different, and sprint freestyle is even more so.

The USMS website contains articles about sports medicine, health, and nutrition. This information is not intended to be a substitute for professional or medical advice on personal health matters. For personal medical advice, or if you are concerned about a medical condition or injury, see your healthcare provider for evaluation and care. The USMS website also contains articles about swim training and technique, including drills and workouts. All swimmers should be evaluated by a healthcare professional prior to beginning swim training. In addition, consult with a trained coach when introducing new technique or drills to your swim training program.