U.S. Masters Swimming Articles & Videos
Presented by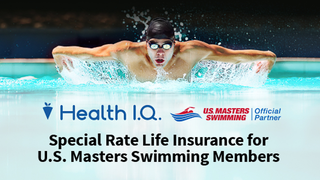 About USMS
USMS is pleased to announce a unique new USMS membership benefit, special-rate life insurance for swimmers, from our official partner Health IQ. Health IQ works with innovative insurance carriers to...
About USMS
Legendary OxiClean pitchman Anthony Sullivan has found a big cause to support: teaching adults lifesaving skills through U.S. Masters Swimming and its Swimming Saves Lives Foundation's adult learn-to-swim initiative.
About USMS
More than 2,000 adult swimmers from across the U.S. are competing in the meet
About USMS
About 10 people drown every day in the United States, most of them adults or young adults, according to the CDC. U.S. Masters Swimming, with its adult learn-to-swim initiative, is on the front lines to reduce this statistic.
About USMS
The Simon's Rock PaceMakers put a new twist on a longstanding USMS event this winter when the workout group in Great Barrington, Mass., put a fundraising push behind the venerable USMS 1-Hour ePostal National Championship.
About USMS
Four ways you can get involved What your donation can provide
About USMS
Two-time Olympian and gold medalist Whitney Hedgepeth, 45, leads the 238-member Longhorn Aquatics Club in Austin, Texas. A cool 23 new members signed up during the August membership drive, making the TXLA the fifth club to receive a $1,200 pace clock from Colorado Time Systems.

The USMS website contains articles about sports medicine, health, and nutrition. This information is not intended to be a substitute for professional or medical advice on personal health matters. For personal medical advice, or if you are concerned about a medical condition or injury, see your healthcare provider for evaluation and care. The USMS website also contains articles about swim training and technique, including drills and workouts. All swimmers should be evaluated by a healthcare professional prior to beginning swim training. In addition, consult with a trained coach when introducing new technique or drills to your swim training program.