U.S. Masters Swimming Articles & Videos
Presented by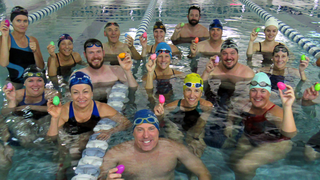 Coaches Only
Here are a few of the things we do with the Joliet Park (Ill.) District Blue Tides.
Coaches Only
Let's discuss a few ways to train your swimmers for that perfect energy allocation.
Whats New?
The preliminary Top 10 listing is for proofreading purposes only. Report any errors to the National Swims Administrator by Monday, November 27, 2017. See the Booklet or the USMS Top 10 Search Page to view the listing.
About USMS
If you haven't yet renewed your USMS membership for 2018, or are thinking about joining for the first time, our partners make your decision easy with exclusive membership benefits. Join by December...
Health and Nutrition
How much do you need to eat? You can Google this question and get a few million results.
Technique and Training
If your local swimming pool doesn't have starting blocks (or won't let you dive off them), don't despair. Here are some ways to ensure spectacular starts when it's your turn to take your mark.

The USMS website contains articles about sports medicine, health, and nutrition. This information is not intended to be a substitute for professional or medical advice on personal health matters. For personal medical advice, or if you are concerned about a medical condition or injury, see your healthcare provider for evaluation and care. The USMS website also contains articles about swim training and technique, including drills and workouts. All swimmers should be evaluated by a healthcare professional prior to beginning swim training. In addition, consult with a trained coach when introducing new technique or drills to your swim training program.