U.S. Masters Swimming Articles & Videos
Presented by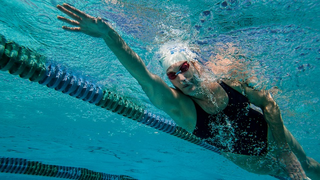 Training
Swimming is a funny sport. Sometimes, when you want to go faster and try harder, you end up going slower. But when you loosen up your body and fully relax, there's more speed to be found.
Advertorial / Health and Nutrition
Did you know: One in three Americans over the age of 20 is obese and after age 50, we lose 1 to 2 percent of our muscle mass every year? These and other interesting and possibly worrisome facts are included in P2Life's visual examination of the standard American diet. 
Biography
Mary Quinn, 41, lives in Chicago. She works in after-school and community-mentoring programs for local youth. She also does volunteer work, enjoys going to movies, swimming with her friends, and baking her famous pumpkin cookies.
Training
What makes some people winners time after time, while others seem to fall short just as often, or at best, get lucky once in a while? In the recipe for success, a properly set goal is one key...
Open Water
I prefer open water to a pool any day. It doesn't mean I don't have a healthy fear of the critters below or other variables, I do. (I could go on and on about lifeguarding drills, feeling nudges...
Coaching / USMS Clubs
If you are fortunate to live in a city that has a college or university, you may have the opportunity to develop a Masters program there. Our experience with Indy Aquatic Masters is one example of how USMS club teams can build relationships with local universities.

The USMS website contains articles about sports medicine, health, and nutrition. This information is not intended to be a substitute for professional or medical advice on personal health matters. For personal medical advice, or if you are concerned about a medical condition or injury, see your healthcare provider for evaluation and care. The USMS website also contains articles about swim training and technique, including drills and workouts. All swimmers should be evaluated by a healthcare professional prior to beginning swim training. In addition, consult with a trained coach when introducing new technique or drills to your swim training program.