U.S. Masters Swimming Articles & Videos
Presented by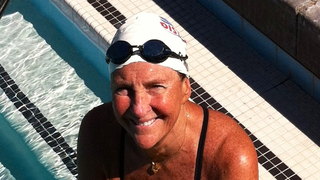 Human Interest
Bev Montrella, 66, of Mision Viejo, Calif., is a dedicated Go the Distance swimmer. She enjoys setting goals for herself, and Go the Distance helps her to do that.
Drills / Stroke Technique / Training
Want to feel the difference? Kenny Brisbin, coach of the Long Beach Grunions offers tips and drills to improve your feel for the water while leveraging your paddle time.
Advertorial
Masters swimmers have many more types of paddles available to them today, but with so many options, how do you know which type is best suited to your needs? Here's a listing of several different types of paddles and how they can improve your swimming.
Human Interest / Training
Swimmers who choose to swim in college, mostly at the NCAA level, will spend hours training in the pool, gym and weight room. Often, training is akin to a part-time job for student athletes. It's...
Coaching / USMS Clubs / USMS Promotional
Many swimmers, your writer included, have had an initial hesitation to join a Masters program; after all, this is a team for serious swimmers, right? Super speedy Type As who thrive on competition or weekend warriors hungry to improve their swimming technique for triathlons?  
Fitness / Health and Nutrition / Sports Medicine / Training
Arthritis, an inflammatory joint condition, affects people of all ages. Osteoarthritis and rheumatoid arthritis are the two most common types. Arthritis sufferers often experience pain, stiffness,...
The USMS website contains articles about sports medicine, health, and nutrition. This information is not intended to be a substitute for professional or medical advice on personal health matters. For personal medical advice, or if you are concerned about a medical condition or injury, see your healthcare provider for evaluation and care. The USMS website also contains articles about swim training and technique, including drills and workouts. All swimmers should be evaluated by a healthcare professional prior to beginning swim training. In addition, consult with a trained coach when introducing new technique or drills to your swim training program.