U.S. Masters Swimming Articles & Videos
Presented by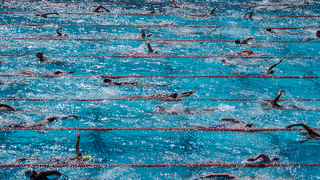 Technique and Training
Here are a few tips for how you can work around difficult situations for a great meet warm-up.
Adult Learn-to-Swim
Steve Woolson was one of 29 people who signed up for adult learn-to-swim classes offered in April at a YMCA in Sarasota, Fla. Members of the Sarasota YMCA Sharks Masters club volunteered their time to teach the twice-a-week lessons.
Adult Learn-to-Swim
Aaron Taylor struggled to find students for adult learn-to-swim classes at his Sarasota, Fla., YMCA branch for the first three months of the year. The U.S. Masters Swimming ALTS initiative fixed the aquatics director's problem in April.
Adult Learn-to-Swim
Sarasota (Fla.) Y Sharks Swimmer Bill Ewell completed the U.S. Masters Swimming's adult learn-to-swim instructor certification course in 2016 and has taught ALTS lessons since April at a YMCA.
Health and Nutrition
Superfoods. It's a buzzword. Google the term and you'll find thousands of articles listing foods you should be eating because of their super-ness. Periodically, the foods at the top of the list change. Do superfoods live up to all the hype or should they be humbled?
Health and Nutrition / Open Water
An open water swim can be daunting but also exhilarating, fulfilling, and fun. To be a successful open water swimmer you must have a nutrition plan. Your nutrition plan should include fuel and hydration supplementation for both your training sessions and for your open water event.
Technique and Training
You might think of your coach as a cruel taskmaster, driven by delight in seeing swimmers suffer. Yet, although your coach might break into a smile when you complain about being tired, the reality is...

The USMS website contains articles about sports medicine, health, and nutrition. This information is not intended to be a substitute for professional or medical advice on personal health matters. For personal medical advice, or if you are concerned about a medical condition or injury, see your healthcare provider for evaluation and care. The USMS website also contains articles about swim training and technique, including drills and workouts. All swimmers should be evaluated by a healthcare professional prior to beginning swim training. In addition, consult with a trained coach when introducing new technique or drills to your swim training program.