U.S. Masters Swimming Articles & Videos
Presented by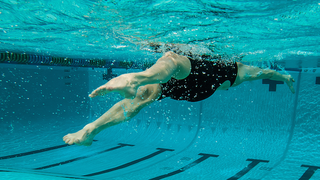 Drylands / Fitness
Coordination and balance are signs of strength and are tied to vitality and overall quality of life, not just athletic performance. Working on coordination and balance is an important part of strength-training regimens, especially for adult athletes as they experience age-related muscle loss.
Drills
Last year at the USA Triathlon Art & Science of Coaching Symposium, the High Performance Director for USA Pentathlon, Dr. Genadijus Sokolovas (aka Dr. G.), presented his favorite freestyle drill....
Press Releases
U.S. Masters Swimming has concluded its annual meeting during the United States Aquatic Sports Convention in Kansas City, Mo. In addition to committee meetings and rules and legislation reviews, USMS held officer elections and honored many of its deserving volunteers with service awards.
Advertorial
Training tools give you the ability to focus on the fine points and specific skills and techniques that will make you a stronger, faster swimmer. Over the past few years, snorkels have become a key...
Whats New?
This week Executive Director Rob Butcher shared with the Board of Directors and National Office staff that he will be stepping down December 31, 2015. On January 1, 2016, Rob will become the...

The USMS website contains articles about sports medicine, health, and nutrition. This information is not intended to be a substitute for professional or medical advice on personal health matters. For personal medical advice, or if you are concerned about a medical condition or injury, see your healthcare provider for evaluation and care. The USMS website also contains articles about swim training and technique, including drills and workouts. All swimmers should be evaluated by a healthcare professional prior to beginning swim training. In addition, consult with a trained coach when introducing new technique or drills to your swim training program.