U.S. Masters Swimming Articles & Videos
Presented by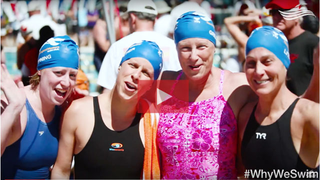 USMS Promotional
Fun, fitness, and friends are only a few of the reasons we swim. Why do YOU swim? Tell us on Facebook!
Stroke Technique
Although breaststroke can be extraordinarily frustrating for those of us who struggle with the stroke, you can't simply blame it on your shape or size, because the best breaststrokers defy description. Breaststrokers come in all shapes, sizes, and techniques.
Drylands / Training
We make a firm commitment to our swim practices and dryland exercise, and we work hard to improve ourselves during those sessions. But if we're not careful, our other daily activities (or lack...
Events
The year 2008 was the best of times for Speedo, and the worst of times for just about every other competition swimwear manufacturer on the planet. In February of that year, Speedo debuted a...
Coaching
Every Masters swim team coach dreams of having unrestricted pool time, an infinite number of workout lanes, and a full staff of eager and competent assistant coaches. Unfortunately, the reality is...
Open Water / Triathlon
Triathlon is a fast-growing sport with a lot of appeal. Part of what makes it so compelling is the combination of three different disciplines into a single event. And it's a great sport for...
Open Water
Dealing with changing conditions is one of the unique challenges in open water swimming. Depending upon geographical location, seasonal changes can drastically impact the water temperature. The dangers of swimming in excessively warm water are well known, but what about swimming in cold water?

The USMS website contains articles about sports medicine, health, and nutrition. This information is not intended to be a substitute for professional or medical advice on personal health matters. For personal medical advice, or if you are concerned about a medical condition or injury, see your healthcare provider for evaluation and care. The USMS website also contains articles about swim training and technique, including drills and workouts. All swimmers should be evaluated by a healthcare professional prior to beginning swim training. In addition, consult with a trained coach when introducing new technique or drills to your swim training program.