U.S. Masters Swimming Articles & Videos
Presented by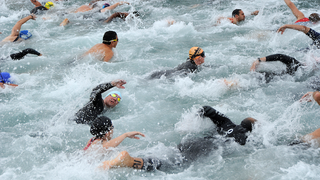 Triathlon
Every triathlete knows how important it is to have the right shoes, the right bike, and the right nutrition plan. We buy power meters and carbon fiber water bottle cages, and we practice for hours to...
Drills / Training
Despite what it might look like, synchronized swimming is far from being all pretty dancing on the surface of the water. Synchronized swimmers have unique skills that could be useful to the average...
Coaching / Drills
Some people have great kicks, but when you take away the kick board and ask them to swim, their kick disappears faster than a fair weather swimmer on a cold day. So how do we get the lower half of...
Drills / Training
"My coach often has us do drills or other activities that don't involve swimming. My training time is limited. Wouldn't it be better to spend that time swimming instead?" Great question! Hold that thought while we take in a picture show…
Open Water
Sara McLarty shows us how drafting off of another athlete—that is, using the energy generated by the movement of the water off the other swimmer's body to assist your swim—is a legal way to gain an advantage over your competitors in an open water swim or triathlon race.

The USMS website contains articles about sports medicine, health, and nutrition. This information is not intended to be a substitute for professional or medical advice on personal health matters. For personal medical advice, or if you are concerned about a medical condition or injury, see your healthcare provider for evaluation and care. The USMS website also contains articles about swim training and technique, including drills and workouts. All swimmers should be evaluated by a healthcare professional prior to beginning swim training. In addition, consult with a trained coach when introducing new technique or drills to your swim training program.