U.S. Masters Swimming Articles & Videos
Presented by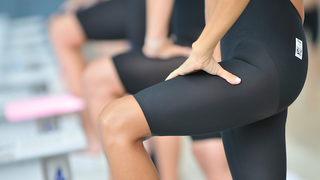 Advertorial
It's a fact that textile fabrics are faster than skin in the water. Add the compression benefits of streamlining the body into a technical suit, and racing with as much skin covered as possible...
Human Interest
To many USMS members—avid swimmers who range from casual fitness swimmers and weekend warrior triathletes to Olympic-caliber pool competitors and adventurous open water swimmers—it can be hard to imagine being an adult who's unable to swim or is afraid in the water.
Triathlon
Every triathlete knows how important it is to have the right shoes, the right bike, and the right nutrition plan. We buy power meters and carbon fiber water bottle cages, and we practice for hours to...
Drills / Training
Despite what it might look like, synchronized swimming is far from being all pretty dancing on the surface of the water. Synchronized swimmers have unique skills that could be useful to the average...

The USMS website contains articles about sports medicine, health, and nutrition. This information is not intended to be a substitute for professional or medical advice on personal health matters. For personal medical advice, or if you are concerned about a medical condition or injury, see your healthcare provider for evaluation and care. The USMS website also contains articles about swim training and technique, including drills and workouts. All swimmers should be evaluated by a healthcare professional prior to beginning swim training. In addition, consult with a trained coach when introducing new technique or drills to your swim training program.