U.S. Masters Swimming Articles & Videos
Presented by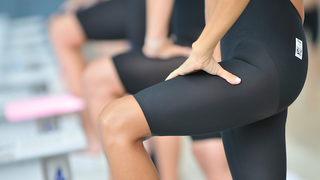 Advertorial
We get up early, work hard all season, put in the yardage, book our tickets, pay our meet fees, and schedule our "vacation" around swim meets. With varying degrees of confidence, we're...
Coaching / Stroke Technique
We've spent a number of years preaching high elbow. There have been various interpretations of this directive, and we'll get into that shortly. But as I was working with a rather flexible athlete recently, a funny thing occurred to me: we never talk about where the shoulder should be.
Stroke Technique / Training / Triathlon
Before you begin incorporating training equipment into your workout sets, it's important to understand that such tools should be used to correct technique, not swim faster in training sets....

The USMS website contains articles about sports medicine, health, and nutrition. This information is not intended to be a substitute for professional or medical advice on personal health matters. For personal medical advice, or if you are concerned about a medical condition or injury, see your healthcare provider for evaluation and care. The USMS website also contains articles about swim training and technique, including drills and workouts. All swimmers should be evaluated by a healthcare professional prior to beginning swim training. In addition, consult with a trained coach when introducing new technique or drills to your swim training program.