U.S. Masters Swimming Articles & Videos
Presented by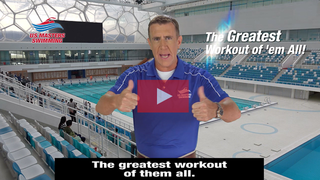 About USMS
Legendary pitchman Anthony Sullivan knows a great product when he sees one. In this infomercial, Sully captures all the best benefits of joining a U.S. Masters Swimming program. Swimming really is "The Greatest Workout of Them All!"
Press Releases
Swimming will take center-stage in Rio de Janiero this month and interest in the sport of swimming will increase through TV viewership, internet searches, and inquiries at local pools across the...
Products and Reviews
Swimmers' hair and skin inevitably develop issues in the summer time because of an increased exposure to oxidizers. Because your hair typically gets more sun exposure in the summer, that helps...
Human Interest
The day Dara Torres hit the water in her fifth Olympics, my reentry to swimming began. She swam a sub-25-second 50 freestyle while I clung to the wall like a terrified 4-year-old on the first day of lessons.
Coaches Only / Stroke Technique / Technique and Training
Swimming is different from most other sports because we spend very little time exerting force against a solid object. As terrestrial creatures, we spend our whole lives with resistance based on some...
Health and Nutrition / Sports Medicine
In our article, "Swimmers' Sun Exposure and Skin Cancer," Sherrif F. Ibrahim, assistant professor of dermatology and oncology at the University of Rochester Medical Center, warns swimmers about...
Whats New?
The preliminary Top 10 listing is for proofreading purposes only. Report any errors to the National Swims Administrator by Sunday, July 31. See the Booklet or the USMS Top 10 Search Page to view the listing.

The USMS website contains articles about sports medicine, health, and nutrition. This information is not intended to be a substitute for professional or medical advice on personal health matters. For personal medical advice, or if you are concerned about a medical condition or injury, see your healthcare provider for evaluation and care. The USMS website also contains articles about swim training and technique, including drills and workouts. All swimmers should be evaluated by a healthcare professional prior to beginning swim training. In addition, consult with a trained coach when introducing new technique or drills to your swim training program.