U.S. Masters Swimming Articles & Videos
Presented by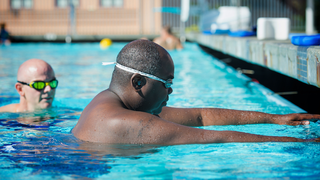 Adult Learn-to-Swim
Driving to my first swim lesson, a million thoughts were swimming through my head: What the heck am I doing? Is it too late to change my mind? OMG, people are going to see me in a swim suit! Will...
Sports Medicine
It's happened to most of us at one time or another: You tighten your goggles another notch to stop water from trickling in, then pressure above your eye that started as an irritation quickly advances to head pain.
Biography
From the time he could walk, Charles Lee jumped into the lake at his family's summer retreat near Terre Haute, Ind. The property, dubbed "Lock Lee," sat on two lakes, one of which was a...
Drylands / Training
Although swimming is done in a horizontal position, it's valuable to engage muscles in different orientations. Many people don't realize that you can do core work in a vertical position....
Coaching
All Masters coaches need great communication skills to effectively give swimmers quality workouts and useful stroke feedback. But the best coaches leverage their communication skills to create even more opportunities to help people improve their swimming—by building and sustaining club membership.
Adult Learn-to-Swim
What is it like to learn to swim as an adult? We asked journalist and nonswimmer Jerry McCormick to document his journey as he became safer and more comfortable in water with the help of one of our...

The USMS website contains articles about sports medicine, health, and nutrition. This information is not intended to be a substitute for professional or medical advice on personal health matters. For personal medical advice, or if you are concerned about a medical condition or injury, see your healthcare provider for evaluation and care. The USMS website also contains articles about swim training and technique, including drills and workouts. All swimmers should be evaluated by a healthcare professional prior to beginning swim training. In addition, consult with a trained coach when introducing new technique or drills to your swim training program.