U.S. Masters Swimming Articles & Videos
Presented by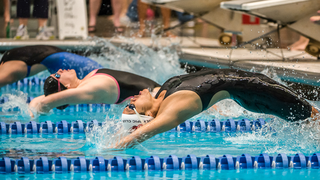 Starts and Turns / Stroke Technique
We've all seen it—the slow backstroke start. There are a few common varieties and some are adaptations based on ability, a limited range of motion, or some other factor. Regardless of why they're happening, slow starts typically come in a variety of flavors.
Coaching / Stroke Technique
The lateral upper-body line is an imaginary line running from elbow to elbow through the collarbones or clavicles when the arms are extended straight out to the sides. If it helps, think of making a...
Coaching
When swimmers talk about flexibility, they're usually referring to exercises that increase range of motion, such as those discussed in the January-February 2014 issue of SWIMMER magazine. But...
Human Interest
The recent U.S. Olympic Trials included more than 40 current or former U.S. Masters Swimming members who were either competing there for the first time, or were seasoned pros at the most intense...

The USMS website contains articles about sports medicine, health, and nutrition. This information is not intended to be a substitute for professional or medical advice on personal health matters. For personal medical advice, or if you are concerned about a medical condition or injury, see your healthcare provider for evaluation and care. The USMS website also contains articles about swim training and technique, including drills and workouts. All swimmers should be evaluated by a healthcare professional prior to beginning swim training. In addition, consult with a trained coach when introducing new technique or drills to your swim training program.