U.S. Masters Swimming Articles & Videos
Presented by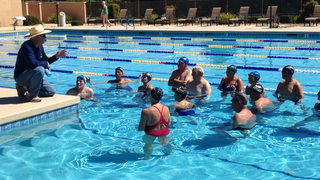 Coaching
It's 6:45 a.m. in the middle of January and not that cold in Tucson, Ariz., where I've joined the SaddleBrooke Masters for one of their five weekly workouts from September through May. The 6:45...
Coaching / Stroke Technique
Why is butterfly the hardest stroke? Masters swimmers frequently ask this question, but the answer is: it doesn't have to be.
Coaching / Training
Performance improvement comes when you continually add challenges as you increase your fitness and expertise. This process of escalation is called progressive adaptation. Once your mind and body...
Advertorial
It's easy to spot the swimmers at Masters practice who grew up swimming: their hips seem to ride on the water's surface, their body rotation is fluid and effortless, and their arms, legs, and...
Human Interest
They say diplomats who serve in Kabul, Afghanistan become hunks, skunks, drunks, monks, or chunks. I was determined to become the former and not the latter, so when I heard there was a pool on our embassy compound, I made a beeline for it.
Training
Being a clock watcher in your office is probably a sign that you're not loving your job. But in the pool, learning to use the pace clock is an important part of becoming a better swimmer. Here are five specific benefits you'll earn:

The USMS website contains articles about sports medicine, health, and nutrition. This information is not intended to be a substitute for professional or medical advice on personal health matters. For personal medical advice, or if you are concerned about a medical condition or injury, see your healthcare provider for evaluation and care. The USMS website also contains articles about swim training and technique, including drills and workouts. All swimmers should be evaluated by a healthcare professional prior to beginning swim training. In addition, consult with a trained coach when introducing new technique or drills to your swim training program.