U.S. Masters Swimming Articles & Videos
Presented by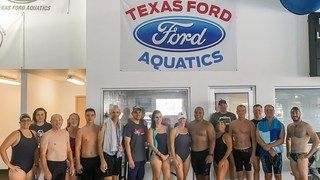 USMS Clubs
How big and amazing could your Masters program be if only you could find enough pool time?
Stroke Technique
Science defines swimming speed (S) as the result of propulsive force (F) multiplied by the turnover rate (R) minus the amount of drag (D). As a simple math equation, it looks like this: S = FR – D.
Stroke Technique
As terrestrially based creatures, we need to breathe. In most sports, breathing happens naturally, without any real thought required by the athlete as to when or how much to breathe. But swimming is different, and sprint freestyle is even more so.
USMS Clubs
Although some of the clubs that won pace clocks during our August membership drive contest didn't even realize the contest was going on, for some this was a prime opportunity to rejuvenate their...
Coaching / Stroke Technique
When sculling, you create high- and low-pressure areas by changing the pitch and shape of your hand. Much the way an airplane wing or a propeller works, the movement of water around your hand during...

The USMS website contains articles about sports medicine, health, and nutrition. This information is not intended to be a substitute for professional or medical advice on personal health matters. For personal medical advice, or if you are concerned about a medical condition or injury, see your healthcare provider for evaluation and care. The USMS website also contains articles about swim training and technique, including drills and workouts. All swimmers should be evaluated by a healthcare professional prior to beginning swim training. In addition, consult with a trained coach when introducing new technique or drills to your swim training program.